Candy Corn Day
by Anna Sandy · October 31, 2016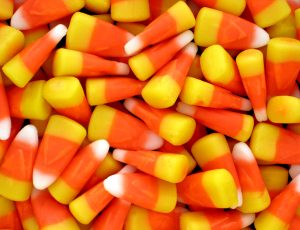 Each year, when October rolls around, I think of three things: ABCFamily re-runs of Hocus Pocus, pumpkins (and pumpkin-flavored everything), and, last but not least, candy corn. I'm not alone in these thoughts- anyone with cable is aware that Hocus Pocus will be playing at least three times a week, and the pumpkin craze is well-documented each fall. However, when it comes to candy corn, the general population is deeply divided; some find the candy too be disgustingly sweet and wax-like, while others can't get enough of the tiny, tri-colored candies. I personally fall into the middle. They are sickeningly sugary, and they are oddly waxy- yet, somehow, if I start eating them, I can easily polish off a bagful.
Candy corn is a staple of Halloween, rising to popularity after being created in the 1880s by George Renninger of the Wunderlee Candy Company. Supposedly, Renninger created to candy to celebrate harvest, the corn crops, and the deep fall colors that are seen in the candy. Nearly two decades later, production of the candy was taken over by the Goelitz Candy Company, which later became what we know as the Jelly Belly Candy Company. Its' success inspired a chain reaction of other fall-inspired candies, such as mellocreme candy pumpkins.
The candy-making process was originally done by hand, cooked into a thick mixture of sugar and corn syrup, then poured into molds. Today, the annual 9 billion pieces of candy corn are made by machines, and shipped out for trick-or-treaters across the world. Whether you love or hate it, the chances are high that a bag of candy corn will end up in your hand sometime this Halloween.
It's plain to see that candy corn is here to stay- and has a devoted following, who have use it as inspiration for everything from sweets to drinks. If you can't stomach the real thing, one of the multiple recipes for candy corn cupcakes, candy corn fudge, candy corn bagels, or even candy corn martinis, may be more to your liking.
Have a Happy (Sugary) Halloween!
For this month's poem, I have chosen Kim Addonizio's "Scary Movies." When she mentions candy, for today's purposes, I like to assume she's talking about candy corn. The rest is self-explanatory for this time of year.
Scary Movies
Today the cloud shapes are terrifying,
and I keep expecting some enormous   
black-and-white B-movie Cyclops   
to appear at the edge of the horizon,
to come striding over the ocean   
and drag me from my kitchen   
to the deep cave that flickered   
into my young brain one Saturday
at the Baronet Theater where I sat helpless   
between my older brothers, pumped up   
on candy and horror—that cave,
the litter of human bones
gnawed on and flung toward the entrance,   
I can smell their stench as clearly
as the bacon fat from breakfast. This   
is how it feels to lose it—
not sanity, I mean, but whatever it is   
that helps you get up in the morning
and actually leave the house
on those days when it seems like death
in his brown uniform
is cruising his panel truck
of packages through your neighborhood.   
I think of a friend's voice
on her answering machine—
Hi, I'm not here—
the morning of her funeral,   
the calls filling up the tape
and the mail still arriving,
and I feel as afraid as I was
after all those vampire movies   
when I'd come home and lie awake
all night, rigid in my bed,
unable to get up
even to pee because the undead   
were waiting underneath it;
if I so much as stuck a bare
foot out there in the unprotected air   
they'd grab me by the ankle and pull me   
under. And my parents said there was
nothing there, when I was older   
I would know better, and now   
they're dead, and I'm older,   
and I know better.