Connecting with Moya Cannon's "Chauvet"
by Taylor D'Amico · January 25, 2017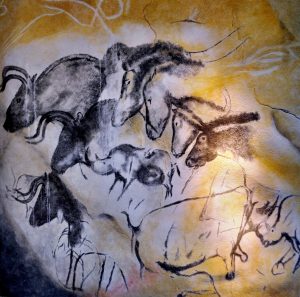 Drawing from ancient cave paintings found in the Chauvet cave in France, Moya Cannon's poem Chauvet, first published in Five Points Vol. 9 No. 3,  speaks to creativity itself. Artistry stretches its roots back to man's origin and is integrally woven within humankind just as any instinct. "More than stalagmite" in a world of legacy left in fossil, we as humans create something much more of the world around us and even ourselves.
"The animals had been in the wall all along, / awaiting recognition, release," Cannon writes as she shifts from primitive pigments to Italian renaissance sculptors uncovering forms in marble, carving out what is already there. The artist, within any medium, defines what is hidden from the rest of us. Further, this line calls back to her use of "stalagmite", mirroring the artist with a paleontologist. Both act as an instrument to establish and preserve life, to bring it to the surface for others to see.
Cannon's final lines gracefully capture the experience of art, of creating it and encountering it, "draws us out of our humanity, / warm-blooded, bewildered." Art extends discoverable truths of who we are, a secret knowledge of self and life, our "humanity". Our engagement with creativity is that "warm-blooded" instinct to reach for that bewildering something that we know is there, to leave our legacy in more than mammoth bones.