Maybe These Girls Are Yours, Too
by Megan Clark · September 12, 2016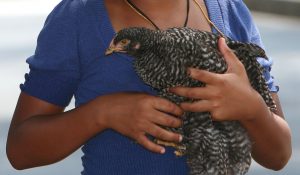 Lesley Nneka Arimah's story "Buchi's Girls,"  first published in Five Points Vol. 16, No. 3, will sock you in the stomach, and you'll be glad for it. When I say glad, I mean, glad in the sense that Arimah crafts an emotionally wrenching scenario for her characters and then arrives at an ending that feels both inevitable, yet still fresh and painful. Her story satisfies on the levels of worry, of love, of slim hope.
Arimah invites the reader into the emotional aftermath of a family – Buchi and her two daughters, Damaris and Louisa – who have lost their husband and father and must now live on the charity of Buchi's sister and her husband, Dickson. They are only allowed to stay after her husband's death because she has agreed to cook, clean, and manage her sister's household. While teaching her children, Buchi remembers how her husband would ask during hard times, "Is money everything?" but despite Buchi agreeing then, such "high-mindedness felt foolish now that she couldn't afford to send her children to school." The sharp financial divide between Buchi and her sister's family is apparent, as Arimah juxtaposes Buchi's inability to afford a good education, while her sister's children are off at boarding school in England.
Her daughters are looked at as invaders in the house, as things to be tolerated rather than loved. Damaris and Louisa are not permitted to enter their cousins' bedroom with its "pink carpet, white twin beds … enormous white dollhouse." They are not even allowed to play with their cousins' dolls while they are away. Buchi and her daughters never leave the house expect to step into the backyard, where Damaris, who has not spoken since her father's death, has made friends with a runty chicken that she takes to "like it was her own child." However, the family of three can find little reprieve in their new home. The walls press in further when Dickson takes up space in Buchi's typically peaceful kitchen. He taunts Damaris about her chicken, saying, "I will kill I and I will eat it with stew." When quiet Louisa breaks and defends her sister, sobbing,
"You can't kill the bird, Damaris is writing a book about it," all goes wrong with Buchi's plan to ask for extra funds to send her girls to school, and she must make a difficult decision about their futures.
This story takes place over the course of a single day, in one house, and shows how fiction can appear small yet pack a punch. I express a similar sentiment to my creative writing students – invite us into the story, allow us to care, let the conflict arise from the characters. Amirah does this, and wonderfully, so that by the end, readers look at Damaris and Louisa as their own girls, and we break along with Buchi at their prospects.