Obscure Holidays: Dr. Seuss Day
by Anna Sandy · March 02, 2015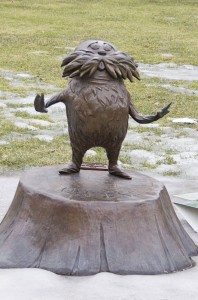 One fish, two fish, red fish. . .  Have you guessed what today's obscure holiday is yet? If that infamous rhyme didn't clue you in, it's not the one for you. Today is Dr. Seuss Day.
Dr. Seuss is not actually a doctor, but a poet and cartoonist. His name is actually Theodor Seuss Geisel, but he began using his middle name "Seuss" as a pen name while attending college at Dartmouth. He went on to write on to write forty-six children's novels, creating beloved characters such as The Grinch, Horton the elephant, and the Cat in the Hat. His zany characters and memorable rhymes have made him a favorite among the young and old alike, sparking motion pictures, television specials, Broadway musicals, theme park rides, and more. His books have been translated into over 15 different languages, and over two million copies have been sold worldwide.
His breakout book, The Cat in the Hat, was written after an editor gave him a list of two-hundred-twenty-five simple words and asked him to write a book using only them. He then wrote Green Eggs and Ham as part of a bet that he couldn't write an entire book using only fifty words. As we all know, he won that bet (and the book became one of the top five best-selling children's books of all time).
Dr. Seuss died in 1991 in California, but his work and legacy live on. So today, in honor of Dr. Seuss, have a plate of green eggs and ham. Count fish. Hear a Who. Steal Christmas and give it back again. Be Thing 1 (or Thing 2). Dance with the Fox in Sox or make a mess with the Cat. Whatever you do, have fun doing it because that's what Dr. Seuss is all about.
And, of course, for today's poem, we'll have one by none other than Dr. Seuss himself:
The Lorax
I am the Lorax.
I speak for the trees.
I speak for the trees, for the trees
have no tongues.
I meant no harm.
I most truly did not.
But I had to grow bigger,
so bigger I got.