Personal Revelation of "A Cottage Cheese Sandwich"
by raven neely · April 06, 2016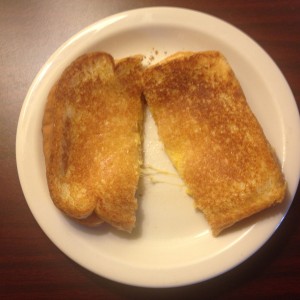 A subtle piece with a profound impact, the title of Jane Hirshfield's "A Cottage Cheese Sandwich," first published in Five Points Vol. 15, No. 1&2, suggests a comical ode to a beloved snack item. Since it isn't every day that the subject of a poem appears to be made of a couple slices of bread with a delicate creamy texture in between— and those who have only known me for five minutes have probably already attested to this—I couldn't help but to be drawn towards the appeal to the appetite. Yet Hirshfield immediately dismantles the notion of satisfying that craving by resetting the mood of the poem in the first short stanza. The implementation of second person at the start of the second line provokes accusation and soft shame. What have I done now, or what did I not do?
At the end of the poem you might find yourself asking, "Is this still about the sandwich?" It's a question of euphemism, of meaning. After letting this poem float around me for a while, I've taken it from the general application of the status between two ordinary people to the slightly more limited scope of the relationship of two people romantically engaged. In one light the poem's question might be, "Just because she says one thing doesn't really indicate that she means it, and if it does, what does it actually mean?" and here we see the perspective perhaps of a lost lover.
Ultimately, Hirshfield's poem confesses an urge not to take things for granted, "even the simple." Much like the lack of appreciation we may sometimes have for a good meal, no matter how long it took to prepare, we sometimes forget to be thankful for it. "A Cottage Cheese Sandwich" asks us to savor every juicy moment, of whatever delicacy you might have, for it won't be long until it's gone.
"A Cottage Cheese Sandwich"
By Jane Hirshfield
So many things
you'd not have thought of
until they were given.
Even the simple—
a cottage cheese sandwich,
a heron's contractable neck.
You eat. You look.
Then you look back and it's over.
This life. This flood—
unbargained for as everlasting love was—
as lasting oddness.
For all Atlanta natives, here's the best resource in the city on food, entertainment, and other worldly delights:
Creative Loafing "Best of Atlanta"—Where to get today's plated pleasantries
To pinpoint a few that my fellow writers and scholars would be particularly inclined towards:
> Best coffee shop to escape reality: War Horse Coffee Joint (The Goat Farm, Atlanta)
> Best breath of fresh air: Dish Dive (Decatur)

And here she is, seated at a dining table, arm set on placemat, foreground coffee mug just an elbow swivel to the right, pen on paper, book beneath—all of which can easily be cleared for the consumption of other felicitous delights.