Thoughts on All Hallows' Eve
by Anna Sandy · October 29, 2014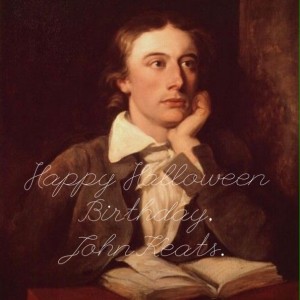 "Upon that night, when fairies light…"
 As October 31st approaches, skeletons, spider webs, and creepily, clumsily-carved pumpkins decorate storefronts and porch steps, and costumed witches and goblins will soon march from door-to-door, alongside princesses and superheroes, to ask for candy. Trick-or-treating, massive haunted houses and horror trails, and the elaborate decorations are a full-color imitation of the once-feared All Hallows' Eve.
"The spirits of the dead, who stood in life before thee, are again in death around thee."
 The original origins of Halloween are thought to come from the Celts, specifically from the holiday of Samhain, an end-of-summer feast. It was thought that on this night, the veil between the dead and the living was at its thinnest, and spirits could come through. Many people offered sacrifices to keep themselves protected from the spirits, and the tradition of lighting candles and saying prayers for the dead still persists in some places today.
"Round about the cauldron go…"
Though it is now mostly secular, Halloween stills holds an air of mystery and fascination for most people, and poets are no exception. The most famous example of poetry and horror is, without a doubt, Edgar Allen Poe. Both his poetry and his personal life (and death) are fit for a haunting. Anne Sexton wrote the witch-perspective poem 'Her Kind.' Annie Finch wrote a more traditional 'Samhain.' Christina Rossetti's 'The Goblin Market' is a long tale of trickery and peril. And of course, Shakespeare's three witches are infamous.
"All houses wherein men have lived and died are haunted houses…"
Aside from simply the poems written about Halloween and its themes, the day itself also holds some significance for poetry. Halloween is the day that poet John Keats, perhaps appropriately, was born. The Lost Generations's Ezra Pound was born on the 30th, one day short of it.
"Twas the dusky Hallowe'en…"
 Halloween, and the entire month of October, has also claimed a number of the literary greats. Sophie Mereau died on Halloween, 1806. Pulitzer prize-winner, H. L. Davis died on Halloween in 1960. Carel T. Sharten, Dutch poet and writer, died on Halloween of 1950. One of the earliest English poets, Geoffrey Chaucer, died on October 25, 1400. Edna St. Vincent-Millay was found dead in October of 1950. The decidedly non-creepy Elizabeth Bishop died in October of 1979. Carolyn Kizer died just this month, three weeks before Halloween.
"Two things I did on Hallows Night…"
Who knows? Maybe this All Hallows' Eve, some of these spirits will come back to roam the earth again…
"…left open wide my door to the ghosts of the year."