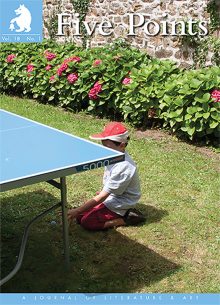 BUY PRINT EDITION
Five Points, Vol. 18 No. 1
Spring 2017
From Mark Jarman: "I suppose a painting, a hummingbird, a kestrel, or a cormorant, as I approached any of them, is an object for meditation and an occasion for making a poem that will put the meditation into words."
Sample Content
Scott Hightower
Polio and the Pleasure of Listening to Someone Reading Aloud
If I compile a list of things for which I am grateful, perhaps the Central Texas. My mother's family came to the northernmost State of Mexico to homestead around the time that Stephen F. Austin arrived with his Anglo settlers . . . in the early 1820s. Through the years, even as Texas was going through its own sweeping historical changes, my family migrated a bit northwest into what would later become Bell and Lampasas Counties.
After the American War Between the States, my father's family came to Blooming Grove, Texas (Navarro County) to trade horses. As part of the U.S national defense, Texas—a frontier state requiring fortification—was becoming a heavily militarized State. Like the roaming and resident Amerinds and cowboys, soldiers required mounts. Our clan of rowdy young Hightower men wrangled, broke, trained, and traded horses. Part of the family business involved supplying mounts for Camp Gates, later Fort Gates, near the present day town of Gatesville, Spur Capital of the World. . . .