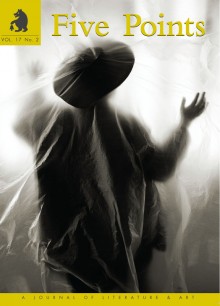 BUY PRINT EDITION
Five Points, Vol. 17 No. 2
Spring 2016
From Sindiwe Magona: "I do believe that writing is always about self. Because even when you propose to write something that is not self, you are still tapping into who you are."

Sample Content
Dominika Wrozynski
My Mother's Kraków
Rush hour—I ride a bus in Kraków,
the city of my mother's birth, and give
up my seat for an old woman carrying
young potatoes in a red-mesh grocery
sack. She will boil them in the old pot,
sprinkle them with dill, and pour glasses
of buttermilk—bounty as elusive as God
these days. I say please take the seat,
in a Polish tongue awkward from disuse.
She stands, looks past me into smog
outside of the window, the sun hanging
low over the city like a bruised peach.