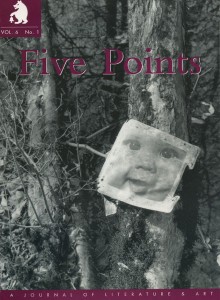 Five Points, Vol. 6 No. 1
Fall 2001
From John Hollander, "I don't think form is the essence of poetry. I think all this other stuff is."
Sample Content
Lee Zacharias
A House in Florida
The house has none of the characteristics one associates with an ancestral home, though it is what many sons and daughters of the Midwesterners who came of age during the Depression will inherit. Michigan, Wisconsin, Illinois, and Indiana read the expired license plates nailed to the mailbox posts or planted on stakes in the flower boxes that disguise the metal skirting where the foundations should be, boxes that blossom nearly year round with firecracker plants, hibiscus, and ixoras, heat-lovers that could not survive in those cold, distant, gray states. This is the strip of sunny Florida claimed by the Midwest's retired working-class, this string of branch banks, discount department stores, and franchise restaurants along the Gulf coast from Crystal River to Tarpon Springs. U.S. 19, once a long, lonely stretch of road connecting Tallahassee to St. Petersburg and Tampa Bay, thrums with four lanes of traffic. It's not Naples, the trendy, no longer shabby-genteel Gulf town that now calls itself "the Palm Beach of the West Coast," nor the Gold Coast, where geriatric New Yorkers behold the Atlantic from luxury high-rises that cast steep, granite-colored shadows across the beach; the names of these towns that run one into another-Spring Hill, Hudson, New Port Richey-adorn no tourist brochures. Still this strip of West Central Florida is affluent beyond any measure its nouveau idle might have hoped during the decades of toil that lay between the blighted prospects of their youth and their pensions. "I never dreamed I could live like this," my father often said to me in the fifteen years that he spent in Hernando County before he died. "This place has everything I want," his next-door-neighbor echoed when I came down nearly five years after my father's death to clean out the house.
Most of the coast here is marshland, and the nearest beach, a narrow strip of trucked in sand, might as well be a hundred miles away as ten, but the occupants didn't choose High Point for the beach. They have a golf course and shuffleboard courts; if they want to swim they have a pool. What they're here for is the weather, though neither the golf course nor the yards are lush. There are deciduous hardwoods and varieties of palm, but, like my father, most of these Midwesterners seem to shun trees. The dwellings themselves are modular houses, the sort that travel the interstate in halves, wide loads with the backs cut away, as if they might be dollhouses whose billowing plastic tarps hide a make-believe family just sitting down to dinner, a mommy and daddy giving thanks that Dick, Jane, and Sally have finally gone off to have families of their own. The walls are as boneless and thin as dollhouse walls, and when I shower in the narrow fiberglass stall of what was my father's bathroom my elbows bump with a hollow sound that makes me swear I feel the house roll, though it's securely parked on its cement pad. To the insurance company this is a mobile home, but neither it nor its neighbors are going anywhere. Only the homesick wives, who miss the children and grandchildren and new great-grands up North, who don't golf or spend their afternoons sunning, who don't go to casino nights or take the line-dancing class and hate the heat and bugs, only those reluctant residents call their retirement homes trailers.
Although they may lack rootedness, the solidity and memories of the houses grandparents used to live in, they hardly fit the standard definition of trailer. The paneling may be wood-grained paper and the ceilings breached by a strip of plastic molding snapped over the joint of the house, but they are spacious, comfortable, and well appointed, with dishwashers, disposals, and central air, laundry rooms, pantries, breakfast bars, bay windows, and built-in buffets. There is more storage in my father's two-bedroom, two-bath model than there is in my big house back in North Carolina. Until he died, the plumbing in my bathrooms was vintage 1923, with porcelain-handled faucets that leaked rusty teardrops of cold down one side of the basin and hot down the other. We always did go for opposites: my house long on charm and short on convenience, his built for comfort; no Persian rugs or antique loveseats here, but La-Z-Boys protected from wear by terry cloth towels, wall-to-wall carpet even in the bathrooms, and a wastebasket stationed beside every chair.