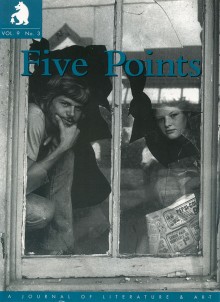 Five Points, Vol. 9 No. 3
Spring 2006
From Alice Hoffman, "[Teenagers] haven't shut down the way we do as adults, and so I'm more willing to go to the deepest places when I write for them."
Sample Content
Moya Cannon
Chauvet
For John Berger
One red line, defining his rump,
draws the small mammoth out of the cave wall,
renders him more that a stalagmite.
In another chamber,
a bear's paw protrudes,
outlined in charcoal.
The animals had been in the wall all along,
awaiting recognition, release.
The stone-age artists knew it,
just as the Italian master would know it,
as his chisel unlocked perfect forms
from Carrara's marble,
as we know it,
when some informed, deft gesture—
a tilt in a melody,
a lit line in a poem or a song—
draws us out into our humanity,
warm-blooded, bewildered.