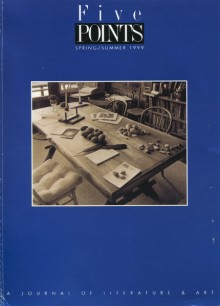 Five Points, Vol. 3 No. 3
Spring / Summer 1999
From Frederick Busch, "I think a story tends to take a moment out of time and preserve it. It's the moment at which either the reader and/or the characters or a character sees a truth about themselves, or feels a truthful feeling about the character."
Sample Content
A.E. Stallings
Clean Monday*
Other kites already patched the sky,
As if the clouds were moored with so much string.
To fly a kite seemed like an easy thing.
We fastened on the tail, perhaps awry.
Your nephew gave our offering to the breeze.
It lurched aloft, wagged side to side, and stooped,
And, in an angry handwriting, it looped
Until it suicided in the trees.
An hour to retrieve and fix the craft.
Your nephew strayed away to other games.
We untied knots, and called each other names,
And realized our pettiness, and laughed.
We wrestled with the angel of the air
Until we got his blessing, and the kite
Reared up against the string with all its might,
And your nephew sprinted back to clap and stare.
Then, "Let me hold it please!" he said to me.
"But with both hands," I said. And he, "I will."
For a moment he was sailing standing still,
Then in his joy, forgot, and set it free.
* Clean Monday marks the beginning of Greek Orthodox Lent. Children celebrate this holiday by flying kites.