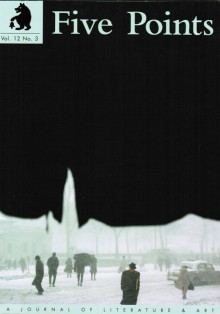 BUY PRINT EDITION
Five Points, Vol. 12 No. 3
Fall 2009
From J. D. McClatchy, "What I think of as distinctly American in [my poems] is their interest in the idea of Elsewhere, and their obsession with the self."
Sample Content
Eric Trethewey
Combinations
I had applied to graduate school at the University of Kansas and had been accepted with financial aid and a tuition waiver. But before I uprooted my family again and moved west, I thought I should buy a bus ticket and go out there to look around.
What I found wasn't really to my liking. It wasn't so much the university I objected to as the gestalt of the whole area. Despite the city of Lawrence being named after a prominent anti-slavery partisan, the place didn't give me the right feeling. The campus and environs seemed too rural for Gwen and too white. I had a premonition that as an interracial couple with a mixed-race child, Gwen and I might not be happy there. Perhaps I was wrong, but I decided to go with my intuition.
So Gwen and I decided that I could go to graduate school in New Orleans, and I would be able to come home to Gulfport on weekends. We were living there at the time with her mother, Lee, and a friend of her mother, Charley. I bought another old car and went through the university application process. In fact, the first day I visited the campus, the chairman—at the University of New Orleans where I earned an M.A. in English—offered me a teaching assistantship, which included a tuition waiver and a stipend. Back then, in so many ways, the academic world was a different universe.
In those days, the last gasp of the 1960s, when I first came to New Orleans to attend graduate school, I was a commuter. I would drive the eighty or so miles there and back to Gulfport a couple of times a week, but it soon became clear that this arrangement would not work in the long run. So I rented a second-floor slave quarters apartment on Royal Street in the French Quarter. It was two dingy rooms and a bathroom, oppressively hot in summer, and, because of the puniness of the tiny gas heater, uncomfortably chilly in winter. The rent was fifty dollars a month.
On cold, dark evenings after I had left the university, I would walk through the Quarter or take the Decatur Street bus down to Tchoupitoulas Street by the river where the boxing gym I trained at was located. I was an amateur fighter back then, and I usually worked out five or six times a week.
I lost a fight on points to a local boy in the final of the Louisiana Golden Gloves, but other than that, I was unbeaten. Later, I won the Junior National AAU Light-heavyweight championship. I had a few professional fights with no losses, but soon, probably due to excessive reading, I was obliged to quit because I could no longer pass the pre-fight vision examination. I mastered some moves, and I could punch like a pile driver, but I was no defensive boxer. Mostly I won through a combination of strength and endurance—and determination. I didn't much mind taking a few punches to get in a zinger or two of my own.
After working out I would come home, jury-rig a meal out of odds and ends in my ancient refrigerator, and then sit on my cot with blankets heaped over my shoulders, and read late into the night, sometimes until dawn, always hungry for something in books I could never exactly define.