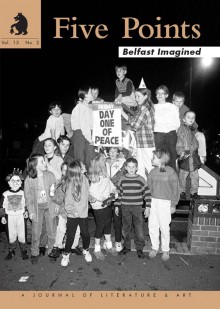 BUY PRINT EDITION
Five Points, Vol. 13 No. 2
Fall 2010
From Glenn Patterson, "I came at the novel by a circuitous route, having attempted, in my early teens and early twenties, short stories, a screenplay, and even –God help me- a bit of poetry."
Sample Content
Alan Gillis
Down Through Dark and Emptying Streets
Open a new window.
Go and Google yourself.
Open Facebook and update
all trace of yourself.
While you search Myspace,
sync your apps, correct a wiki,
blah blah on your blog,
stream and twitter, you see
such-and-such has got in touch,
requesting you as a Facebook friend.
And the name's slow-dawned gravity
widens the window, weirds and sends
you plunging into the déjà-vu
of a phlegm-skied twilight
with unreal soldiers on the walls
lit by fire-red and air-blue streetlights;
sends you trampling through the fank
and crumble and Regal packets
of your hedgeless estate
in a tufty and tarnished leather jacket,
flappered and frazzled paisley shirt,
scuffed and shagged-out oxblood boots;
walking away from your mother, the screech
of your sister's wee black flute,
past the clanking monkey bars,
swings and roundabout of a dog-dark
dungeon of a playground,
through a sinister elm-guarded car park;
cutting to the main street through
the grounds of windowless factory,
past the pock-marked and Jesus Lives
walls of a public library
while the sky turns to liquorice,
dull cardigan and tobacco fumes
embered with persimmon blushes,
melon-flowers, mango blooms;
walking until you catch a hint
of her toe-to-heel click-clack
and follow her past scuppled shops,
dead-end alleys, hokey flats,
past head-the-ball hardnuts driving by
in souped-up Cortinas and Capris
hunting their prey; and she's driving you
doolally, knocked at the knees
as you follow her past the bookies'
arcade machines and nudgers'
Fisher Price lights and beep-bop-bings;
past the queue of scratching pudgers
in the chip shop where a pouty girl
shovels cod with a lizard-eye
love bite, Princess Diana pendant
and powdered-over black eye;
past chain-smoking bars with ducktape
on the cracks of their panes
silhouetted by the awful size
and dormant metal of dockyard cranes;
and you're all hearts and flowers
with each step into the square,
where she turns so you can finger
her pampas bleached and hair-
sprayed hair, and she says Hey there,
in her clown voice, is that a spanner
in yer works? under the twenty-foot
high frown of an Ulster Says No banner
and her rib-cage is delicate white
as flour on a fillet of fish
while her lips, still hot with sausage,
salt and malt vinegar, mouth a wish
and clarty newspapers carry news
of the weekend's nil-nils
windblown with Special Brew
cans and Styrofoam cups as you thrill
to her octopus fingers,
the probe and prod of her plum of a tongue,
your teeth and her teeth tapping together,
holding breath until kingdom come.
She asks will all this last forever?
against the dun Woolworth's door.
Now your hard drive hums and haws.
You waver between Confirm and Ignore.