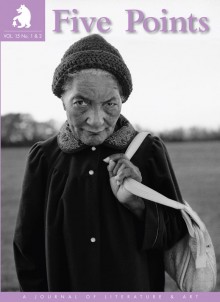 BUY PRINT EDITION
Five Points, Vol. 15 No 1&2
Spring 2013
From James Dickey, "I meant to write about the universal need for contact that runs through all sentient beings and will be served, even if it creates monsters. It's too strong for everything."
Sample Content
Anya Silver
Girl Braiding Her Hair Albert Anker (1887)
A girl plaits her hair, a bowl of water
and an open book on the table beside her.
She's fair as my sister and I were,
when we sat still and felt our mother's
skillful hands tugging at our scalps
as she wove the fine, flaxen strands
into ropes hanging down our backs.
Her fingers read our hair like Braille.
Still, we gave up braiding early,
preferring the lazy ponytail.
But this girl, the room's darkness
dissolving in her hair's pale sheen,
knows the strength of a three-fold cord.
From three, her hands weave one.
From the flood past her waist, she crafts
a channel; from the field, she hews a furrow.
Serene, her fingers move through segments
(Left,right,left. Left,right,left),
each twist a calling to order she's answered.