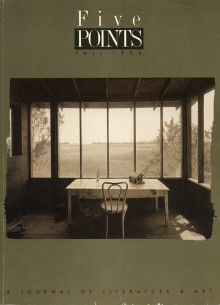 Five Points, Vol. 1 No. 1
Fall 1996
From Louis Simpson: "When you're writing, you really don't know what you're doing. You don't know how it's going to come out. If you think you know, you may write a bad poem."
Sample Content
Tess Gallagher
A Glimpse of the Buddha
She was lost in the habitual unspiraling of her own signature when the cool, commanding voice broke through.
"You're in my place," the voice asserted with the authority of the Queen of Hearts. Ruby, who delighted in the queen when she read to her granddaughter, considered it unlikely that the voice was addressing her.
"I haven't concluded my transaction," the blonde woman behind the voice said. Ruby continued to date her check, the effort punctuated by jerks from the tethered supermarket ballpoint. When she'd taken up the pen she'd noticed a faded blonde woman putting items into double plastic bags where the grocery help usually stood, but she'd paid no heed. She'd assumed the woman was either a customer helping the beleaguered checker or a bona-fide employee.
"You're supposed to be back there with your basket," observed the woman. A scrawny arm pointed towards Ruby's shopping cart, behind which several shoppers had lined up with their groceries. Ruby's cart contained a few breakfast items and sandwich makings for her husband's lunch. He'd gone to buy lotto tickets at a machine and was nowhere in sight. The cart seemed strangely far away, waiting to be unloaded by the checker who stood like a bespectacled white rabbit with her forepaws caught midair between her two customers.
Ruby turned back to the blonde, attempting to fathom what play of events had brought about the woman's challenge. Perhaps if she explained.