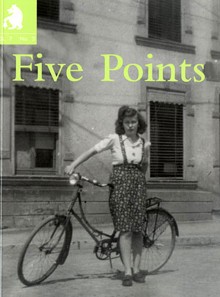 Five Points, Vol. 7 No. 3
Spring 2003
From Robert Olen Butler, "Art does not come from the mind. Art comes from the place where you dream."
Sample Content
Louis Simpson
Lives of the Poets
Dickinson had a cockatoo
she called Sémiramis
and loved dearly.
Whitman was a trencherman,
his favorite dish
a mulligan stew.
Frost went for long walks,
Eliot played croquet,
Pound took fencing lessons.
There is a snapshot of Yeats
in a garden with a woman
naked to the waist and smiling.
Auden when he was old
counted the sheets of toilet paper
that a visitor used.