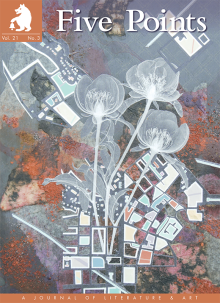 BUY PRINT EDITION
Five Points, Vol. 21, No. 3
Sample Content
Rebecca Foust
Lupine
Oh lord I've gone lupine again
—ask purple dix what I mean—
the hills swoon green
that soon will burn brown,
and the creeks run bludgeon-cold
when I put my feet in.
Through the trees
shunts the sun in a slant
so thick I could eat it
sans spoon & the wildflowers
are calling again.
Come, they say, this way. Turn,
go back again. Remember
bloodroot & dogwood & redbud
in spring. Remember wild azalea
& grapevine edging the quarry,
remember jumping in.
Remember fourteen, the night
you stripped & walked bare
& alone for a mile just to feel moon
& warm rain on your skin?
Remember is what they are saying,
and, You can do that again.