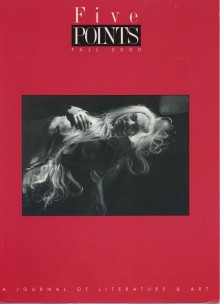 Five Points, Vol. 4 No. 1
Fall 2000
From Ha Jin, "I only write about failure. I never write about success. I never write about important people. I never write about the brighter side."
Sample Content
Yusef Komunyakaa
May
The maypole glistens with pig fat.
Thousands of mayflies (I call
Lovebugs) died the first hours
Against windshields, headlights,
Hoods, or sucked into the grillwork's
Wide grin. In humid dusk,
A sheet of sex hangs & bulbous bees
Nudge mayflowers till pain runs
Into pleasure. A bounty of failures
Swells with timorous maydew & mayblob,
As if something is loved beyond mercy.
Maybirds frolic in shambles of dawn
& ignite mayweed. Sweetheart,
Can I, may I? Should I stop
Undoing these seven bone-colored
Buttons too pretty to look at?