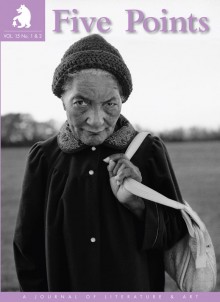 BUY PRINT EDITION
Five Points, Vol. 15 No 1&2
Spring 2013
From James Dickey, "I meant to write about the universal need for contact that runs through all sentient beings and will be served, even if it creates monsters. It's too strong for everything."
Sample Content
Sharon Olds
My Mother's Flashlight
Sitting in the early morning dark,
holding my late mother's little chrome flashlight.
In the cylinder, the batteries shift
and roll, like two, double A,
winged monkey bombs. I write by
her light.When she had gone into her final coma,
and I was on the jet to her,
flying toward her as if I was
a locust swarm, powering my way through the
air with my laugh, my I'll get you Dorothy,
it mattered to me beyond intensely
that I get there before she died, that I hold her
alive, knowing it would end, knowing
she was not, after all, infinite.
I don't think my mother knew what she meant
to me, I don't think I knew. At night, when she was elderly, she would flash me, poor
lonely soul, I would sense the slow
pink-white meteor of her unclothed body
begin to approach me from deep in her room.
I wanted to run, there was something hard to
take about it, I'd steer her and turn her,
as if I was wearing her own, old,
soft, rose-colored oven mitts
to carry something too hot to touch
to a family table. My mother flashed me.
I write by her beam. My mother shone
with will, she travelled across the small
sky above my crib singing, I sing
by her song, at dawn she is my lantern, I sing by her light.