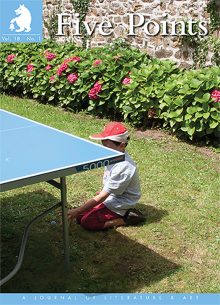 BUY PRINT EDITION
Five Points, Vol. 18 No. 1
Spring 2017
From Mark Jarman: "I suppose a painting, a hummingbird, a kestrel, or a cormorant, as I approached any of them, is an object for meditation and an occasion for making a poem that will put the meditation into words."
Sample Content
Scott Hightower
Polio and the Pleasure of Listening to Someone Reading Aloud
If I compile a list of things for which I am grateful, perhaps the oddest thing on my list would be "polio." I was born in the Hill Country of central Texas. My mother's family came to the northernmost State of Mexico to homestead around the time that Stephen F. Austin arrived with his Anglo settlers in the early 1820s. Through the years, even as Texas was going through its own sweeping historical changes, my family migrated a bit northwest into what would later become Bell and Lampasas Counties.
After the American War Between the States, my father's family came to Blooming Grove, Texas (Navarro County) to trade horses. As part of the U.S national defense, Texas—a frontier state requiring fortification—was becoming a heavily militarized State. Like the roaming and resident Amerinds and cowboys, soldiers required mounts. Our clan of rowdy young Hightower men wrangled, broke, trained, and traded horses. Part of the family business involved supplying mounts for Camp Gates, later Fort Gates, near the present day town of Gatesville, Spur Capital of the World.
I was born in central Texas during the summer of 1952. Little more than a half a decade earlier, my father had returned from U.S.World War II military service. Having been around horses his entire life, he entered the U.S. military initially to work and advance in its horse-mounted cavalry. But, that same year, the U.S. military completed its transition from a horse mounted cavalry to a mechanized cavalry.
The summer of 1945, after serving many years as a combat driver (drove tanks) in the mechanized or armored cavalry, he returned to Texas. In the next years, he married his hometown sweetheart, purchased a spread of land, and began a life of farming and ranching.
His sweetheart (my mother), from the same small community, had gone off to Lampasas, the nearby county seat, to business school and then on to San Antonio to work in the war effort. Having grown up the only daughter of a ranch foreman, she was energetic; a willful, headstrong young woman always on the go. In San Antonio she had a roommate. They worked office jobs during the day and went out socializing and dancing with young soldiers at night. Joyce married a handsome young soldier who had completed his duty. They moved from San Antonio to
Oregon. She went to work for the State Soil Conservation Department. A few years later, finding out that her hometown sweetheart had returned to Texas, she prepared and countered toward what she must have thought was her destiny. Especially among the young, there can be false starts in life. I have a large cache of blue, hand-cancelled, hand-written, revealing letters in a trunk.
Returning from overseas duty, my father found work in the oil fields of Odessa. My mother and father were married at the Baptist parsonage in Lometa,Texas, April 1947. Somewhere between West Texas and Central Texas, celebratory black and white snapshots of the happy couple were made in a pasture spilling over with Texas bluebonnets. Immediately after their marriage, they returned to Odessa.
They saved a down payment for a ranch located in their Hill Country hometown uniquely perched along the Lampasas Cut Plains of the Edward's Plateau. The couple settled into domestic life and started their family; first a daughter, then a son. Somewhere between Valentine's Day and their wedding anniversary, it was clear to everyone that the struggling young Hightowers would be having another.
Lurking in the landscape of those years was the shadow of polio. It was thought that the cause of polio might be found in cold still water, the very kind of water attractive to central Texans throughout what can be hot anvilling summer months.
There were many scares and episodes. Everyone was on high alert. That June, Durwood Alexander, a young neighbor just down the road (husband and new father), began to seem feverish at an Eastern Star ceremony. The next day, he was clearly failing. That Sunday he was dead. Wanda Maybe, his wife, also "stricken" with polio. She was taken to a treatment center in Gonzalez,Texas, where they placed her in an iron lung. Eventually, she returned to an ambulatory life, returned home, even drove a car. But, for the rest of her days, she was confined to a wheel chair with suspended chrome slings in which she could rest each of her arms. Every Sunday morning, while I was assisting my mother with her own demands, James Roy was taking his mother's wheelchair from the trunk of their car, helping his mother into her chair, up the steps, and into the heavy, cumbersome doors of our church. There was never any time for niceties other than a smile or knowing nod with an understated wave. My lot in life, while not without challenges, was nowhere nearly as demanding as it was for James Roy.
*
In 1952, the fourth of August fell on a Monday.That preceding March and April, with Cold War tensions high throughout the U.S., Fort Hood, a nearby military camp, conducted maneuvers—war simulation exercises. For several weeks 115,000 soldiers were engaged in "Operation Longhorn," several weeks of realistic and sobering exercise, where soldiers and airmen trained in the use of chemical and nuclear weapons. It was one of the largest peacetime military exercises that had ever been implemented in the United State. The operation cost an estimated $3.3 million, unfolded across a 60 by 30 mile area, and featured the dropping of about 2,500 paratroopers, as well as staged "battles" between the "Aggressor Force" and U.S. Forces. The Aggressor Force was led by troops from the 82nd Airborne at Fort Bragg, N.C.; the U.S. Force was represented by several Army divisions from Fort Hood. According to a county history book: "Participants also simulated an enemy takeover of Lampasas, complete with mock arrests of city officials and a mock suspension of religious and political freedoms. As training maneuvers continued, propaganda pamphlets encouraged Lampasas Countians to resist the aggressors until U.S. forces achieved victory, which they did near the completion of the exercises." The Lometa area was near the site of the "Aggressor" troop landing.
Propaganda pamphlets that enlisted the memory of famous Texas battles to instill patriotism were printed specifically for Operation Longhorn and instructed Lampasas County residents to resist the enemy aggressor until U.S. forces freed the county." The present-day Lampasas Keystone Square Museum has preserved several of these pamphlets. The local newspaper was used to make proclamations. Edicts included a 6 p.m. to 7 a.m. curfew; confiscation of all government property and all privately owned vehicles; government control of local news media; closure of all schools pending the appointment of "Valid Centralist Party Members" as teachers; churches closed until pastors could be "screened;" and on and on in that totalitarian vain. "It is customary for all civilians to remove their hats and bow when passing an Aggressor Soldier." Basically, freedom as it had been enjoyed prior to the invasion was over, even though the new rules were touted as affording even more freedom. Penalties for violations ranged up to death.
Even games are not without their risk. During the exercises, there were actual injuries and ten men died.
While nearly 20,000 spectators gathered in the western side of the county to watch the landing, my enterprising mother and her mother were making plans. Neither of them ever read "Mother Courage," but they were clever enough to see an opportunity for the family to have a small windfall. They bought flour, sugar, chocolate, and vanilla. They bought bananas, coconuts and bought or bartered for any locally grown fruit or eggs that neighbors were willing to sell. They amassed cream, churned butter—and baked pies. My father couriered the warm pies fresh from the oven to the young soldiers. He later laughed and said the young northern soldiers who couldn't tell a goat from a lamb, luckily could tell a coconut from a peach. The northern boys wanted berry pies; had their doubts about the Jefferson Davis pies—but bought them anyway. And scarfed them down. They also bought lemon, banana, coconut, chocolate topped with velvety meringue. Everything home-made. Upon the close of the maneuvers, everyone laughed and said the newborn would have a smile and a face round as a pie. Thus, Monday the fourth, I—the greedy new infant god of the family—wrangled out into the world.
But that is not where the narrative finds its tidy ending in. On Tuesday, Joyce, my mother, complained to the doctors that her left leg ached and was weak, and that her muscles did not feel normal.
She was having difficulty lifting herself up with her legs. Of course, she wanted assurance that it was not the dread that most struck terror in those Cold War days—polio. They smoothed over the situation telling her that delivery could leave residual effects and that those effects would simply pass in the coming days. On Wednesday, when my mother awoke, she had a terrible headache—and was unable to move from her waist down. It did not take long for the diagnosis of polio to boomerang around within the close-knit community.
Much like the years of AIDS that would follow in just a matter of decades, the years of Polio had profound impacts on the federal government's role in the testing and licensing of future drugs and vaccines. The U.S. debate about health care and "the perils of socialized medicine" wrangles on to this day.
Sadly for my mother, the treatment that summer was not only un- refined, but off the mark. Joyce took 64 penicillin shots in her hip. Penicillin, an antibiotic, destroys the cell walls of bacteria. It prevents the formation of cells. It does not affect viruses. Poliomyelitis is a virus; preventable, but not treatable. Vacination is key. The terrible feud between Albert Sabin, Hilary Koprowski, and Jonas Salk is well documented.
I never thought to ask my father what it was like for him that August; what it was like to be 32 year-old, just out of the military but again surrounded by it; struggling with combining crops, and getting a mortgaged farm organized for winter while tending a four year old, a two year old, and trying to stay current with a wife—who in the hospital was breast-feeding a newborn; who was herself absorbed with the diagnosis and accompanying challenges of polio. Muscles across Joyce's abdomen were compromised forever and there was some resulting curvature of her spine.
After twenty-eight days in the hospital, my twenty-eight year old mother went home. Here the story expands geometrically, as everything the next few years was a test of ingenuity and resilience. As Joyce and I returned home to resume family life, devices were improvised. Often, life is about practical improvisation and the pragmatism of getting by. Two years later—after rigorous hours of exercise and therapy—Joyce was able to walk unsupported. She was fitted for a lift she would wear in one of her shoes.With more time, physical therapy, and muscle strengthening, she was able to resume—not without concession and pain, but nonetheless—an active life for many years.
*
Among the many features, one that moves "polio" onto my list of "Things For Which I Am Grateful" has to do with one of the most profound aspects of my development. Because my mother was not able to romp and stomp with my sister, brother, and me, she would lay with us across her bed every afternoon and read out loud to us. In winter, their were blankets and quilts; in summer, fans. Some of my earliest memories are nudging and jockeying for a comfortable listening position. It did not matter what was read: an article from the "Progressive Farmer," a Bible story, the signs and horoscopes of "The Old Farmers Monthly Almanac" (with its warm yellow cover trimmed with red and black swirls), a health tip from "Prevention Magazine," a newspaper article about local successes or mischief. What mattered was the sonorous range of our mother's voice comforting us into a nap every afternoon. The joy of being read to aloud shaped my life.
Later, when I was in public school, I was fortunate to have teachers who, after our lunches in the school cafeteria, routinely read to their classes. Before our post-prandial naps, we would hear Hugh Lofting's "Doctor Dolittle" or wallow in Puddleby-on-the-Marsh.
Now as a teacher of writing, I make my way incorporating—into my pedagogy and my practice—the joy of listening to others while they read aloud. My students write and then read aloud what they have written. For me, listening to another read aloud is an elemental joy.