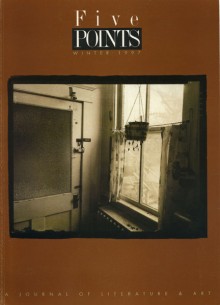 Five Points, Vol. 1 No. 2
Winter 1997
From Eavan Boland, "I've always believed that poetry has a story, and that it has a story that you can uncover."
Sample Content
Naomi Shihab Nye
San Antonio mi sangre: From the Hard Season
"We have faith that God…is the owner of water
and the one who could really help us with this."
— Rev. Rodolfo Ruiz, during prayers for the drought
The 2 a.m. whistle of the long train
stretches out the thread between days
pins it in a crack between its teeth and pulls
so the people in white beds by the flour mill
become the wheat
unground in the sacks
and the old fish with one whisker
flips over in the river grown too thin.
We need the rain, the iron bar of the track,
the backside of heat. The perfect V-ripple eleven ducklings
cast swimming toward the shore for bread.
As the boys who will not lift their heads
to look anyone in the eye mark the name of their pack
on the bridge with the stink of squared-off letters,
Señora Esquivel who lives alone
remembers her underwear draped on the line.
It will not rain tonight, has not rained in 90 nights.
The cantaloupe cracks on the inside,
jagged fissures in orange flesh.
When the cat blinks to see the sneaky possum
licking his water dish dry,
he thinks, and thinks, tomorrow I'll get him,
then sleeps. Inside the small breeze
lifting the fringe of the train's held tone
Hondo, Sabinal, Uvalde, Del Rio and far off
glittering as Oz, El Paso rising
from its strong corner, holding the giant state in place
as the dozing conductor grips his swatch of tickets firmly
in a car streaking the thirsty land.