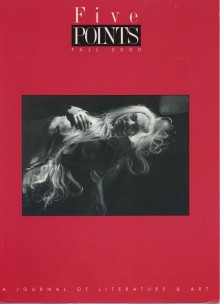 Five Points, Vol. 4 No. 1
Fall 2000
From Ha Jin, "I only write about failure. I never write about success. I never write about important people. I never write about the brighter side."
Sample Content
Alyson Hagy
Semper Paratus
We were a good boat crew. A lot better than anything I saw in boot camp, which you would hope was true. We drilled, ran constant checks on our equipment. We had to. There were only seven of us assigned to the station—a station with an AOR of 1350 miles—and we had hundreds of pleasure craft and beaucoup bad weather to deal with. That made it a choice billet for me. Much better than galley duty on the cutter Harriet Lane which was where I started. At Station Ocracoke, I had what I wanted: plenty of contact with boats and water. I can't speak for the guys. We were all after different things in our careers and our lives, and maybe we still are.
I'd been with Group Cape Hatteras two months, working on promotion to petty officer, when I drew a three-week rotation on Ocracoke Island. James Leggett was our Boatswain's Mate. I believed I could deal with him. He'd been supervisor on crews with women before. He was career and steady and stuck to his business. The kind of guy you wanted to kid about officer school, tell him he needed to get his lieutenant's stripes so he could kick some Academy ass. He'd gnaw on a laugh if you said that, then shake his blondish head. He liked taking the Coast Guard at an enlisted man's pace.
Leggett knew how to run things. Burgoyne, our Machinery Tech, was slick with engines and every other piece of metal in the harbor. Like a lot of shop rat MTs, Burgoyne kept to himself when he could. So did I. The crew accused me of studying all the time, then they'd ask why I bothered, every apprentice seaman from here to Alaska knew I didn't have to bust it for promotion, promotions were handed to women like candy. I ignored the shots like I was supposed to. It was basic shit, part of our lazy downtime talk that mostly fantasized about R&R and money. The shit that meant something was stowed underneath our work blues. Where it was safest.