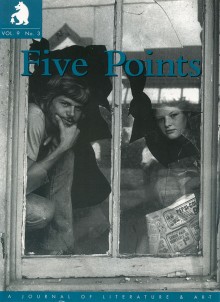 Five Points, Vol. 9 No. 3
Spring 2006
From Alice Hoffman, "[Teenagers] haven't shut down the way we do as adults, and so I'm more willing to go to the deepest places when I write for them."
Sample Content
Campbell McGrath
September
Record season of hurricane misery and we are home to endure it. Boarding up, moving the patio chairs into the garage, stacking the potted plants in corners, orchid baskets plucked from the branches. Even as the storm approaches the laundry must get done! And then it has passed, tail end of the serpent sidewinding up the coast,
and already another named system is battering Jamaica,
and we reside within the cone of its probable destiny, and the storm-shutters stay up,
and we remain in dusk-light, awaiting landfall.
Checking the house for damage, palm fronds, pine cones, twigs and branches, nothing serious. No mosquitoes! Not one. The wind has literally blown them away, though I can see their larvae wriggling toward the surface of the pools in the hearts of the bromeliads, small wells of tropical misfortune. The fountain in the courtyard is gunked with fallen blossoms, the street is littered with coconuts and mud.
Today the homeless cats in the yard resemble more than ever
the small lions they are.