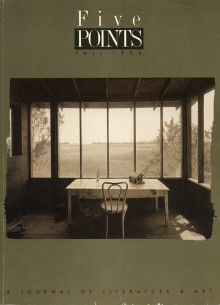 Five Points, Vol. 1 No. 1
Fall 1996
From Louis Simpson: "When you're writing, you really don't know what you're doing. You don't know how it's going to come out. If you think you know, you may write a bad poem."
Sample Content
Charles Wright
Stray Paragraphs in February, Year of the Rat
East of town, the countryside unwrinkles and smooths out
Unctuously toward the tidewater and gruff Atlantic.
A love of landscape's a true affection for regret, I've found,
Forever joined, forever apart,
outside us yet ourselves.
Renunciation, it's hard to learn, is now our ecstasy.
However, if God were still around,
he'd swallow our sighs in his nothingness.
The dregs of the absolute are slow sift in my blood,
Dead branches down after high winds, dead yard grass and undergrowth
The sure accumulation of all that's not revealed
Rises like snow in my bare places,
cross-whipped and open-mouthed.
Our lives can't be lived in flames.
Our lives can't be lit like saints' hearts,
seared between heaven and earth.
February, old head-turner, cut us some slack, grind of bone
On bone, such melancholy music.
Lift up that far corner of landscape,
there, toward the west.
Let some of the deep light in, the arterial kind.