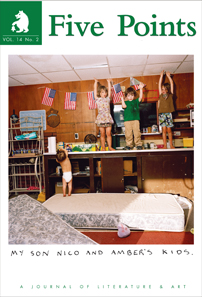 BUY PRINT EDITION
Five Points, Vol. 14 No. 2
Spring 2011
From David Kirby: "Take your time. I'm afraid if I say "patience" one more time, whoever's reading this interview will lose patience with me. But it works."

Sample Content
Mary Oliver
The Day I Found a Creek that Had No Name, and Named It
I know. You never intended to be in this world.
But you're in it all the same.
So why not look around?
And why not get started immediately,
there is so much to see, to admire, to weep over.
Bless the feet that take you to and fro.
Bless the eyes and the listening ears.
Bless the tongue, the glory of taste.
Light the stove, and the fire of your body.
Take someone's hand in the dark, and kiss it.
Admire the roses. Equally the romancing of weeds.
Yes, this life came unexpected, and it's yours.
Listen to how the sparrow sings, praising his field.
In spring find a creek that has no name, and name it.
And a patch of woods rampant with wild violets.
Some findings can make you feel like an entire parade.
And there's even more. Now and again
get down on your knees and consider the grass.
Lie in the grass and look at the clouds.
Don't count them, just look.
If this sounds like preaching, understand
I'm saying this as much to myself as to you.
In heaven no doubt there will be other wonders.
A river that flows slowly, it's so heavy with gold.
Angels, their wings covering their entire discrete bodies.
But no violets.
No sparrows singing in the rumpled fields.
No rambling creek waiting to be given a name.