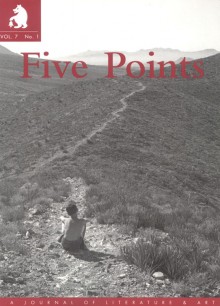 Five Points, Vol. 7 No. 1
Spring 2003
From Madison Smartt Bell, "Once I finish this book, I may start touring music. I don't know what I am going to do. In all probability I am going to have my usual day job."
Sample Content
Edward Hirsch
The Evanescence
(after Gerhard Richter, Abstraktes Bild, #858)
1
The day was green and abstract
Like looking at a field from a shaking train
With yellow light smudged
And smeared in the distance.
The dark trees blurred in the wind
And the earth was always rushing past.
2
How the windswept beach at dawn
Resembled Abraham's dream:
He carried a small body
Trembling in his arms,
A sweet kid dipped in blood
For a terrible meat-eating God.
3
The morning was still bruised
By the lingering memory of darkness,
But the gulls—the bloodthirsty gulls—
Called us back to the shore.
Walk with me a while
In the black-and-blue wake of night.
4
The clouds dissolved in the sky
Over the scumbling waves.
A beach littered with debris,
A sky scribbled with erasures,
And a watery sun floating away.
How does anyone ever sleep?
5
I glimpsed a yellow-beaked redbird—
Radiant, luminescent—
Tilting on one wing
And skimming the shoreline
Just as it was getting dark.
Look. I swear I saw it.
6
I dreamt of a German forest
Dissolving into a red sea.
There were insect creatures
Chasing us, there were metallic birds…
The sea parted for us, love,
But then it was soaked in blood.
7
I stood at the Memorial Wall at dusk
And pictured the barbed-wire fences.
The air was thick with testimonies
Written in red ink.
I had not witnessed the violence,
But violence remembered me.
8
The world was rushing by so fast
That we felt dizzy studying it.
The day was gray and abstract
Like looking at the sky from a shaking train.
We had brushed against the light,
We had been brushed by evanescence.