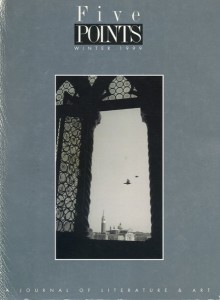 Five Points, Vol. 3 No. 2
Winter 1999
From Philip Levine: "I loved the way Neruda could let almost anything fly into a poem. If you put your hand over the poem you have no idea what's going to appear in the next line, but somehow he can make it belong."
Sample Content
Cary Holladay
The Lost Pony
West to the mountains, east to the sea: I used to hear my lost pony running on the road at night, the pony I'd won a raffle the day the Glen Allen Youth Center opened, the pony that had brought me such brief glorious popularity and then had jumped his fence and vanished. Run away or been stolen, who could tell? He haunted the road, invisible, gone wild.
Once I got up at dawn, got dressed, and went outside. Dew gleamed on the grass, so beautiful. Down the long driveway I sped toward the creek, sure I'd find the pony drinking the cold water. He wasn't there. The milkman drove up the empty road and turned into my driveway. This was back when milk still came in bottles, capped with white paper. Waving and wide-awake, the milkman passed me. He would drive up to my house and leave the milk on the porch, and I would drink it for breakfast.
Again I heard the ponies hooves clip-clipping, and I took off after that sound, swerving left on Mountain Road (so narrow, back then, a child could nearly span it with one foot in each ditch), ran panting as far as the railroad tracks and waited, as a train rushed by; leaped across the hot rails then and cocked my head to pick up the hoof-sounds. They let me past a landmark which I loved—an unkempt old hotel constructed just after the Civil War—to the school, quaint, red brick, built in 1909.
My 3rd grade teacher, Miss Genevieve , was already there, out in the yard. "Why, Lyndoll," she said, "it's only six-thirty."
"I heard at my horse," I told her. "I was following him."
She had on my favorite dress, a grey one with yellow pockets. I had admired her ever since she'd clapped a stovepipe hat on her head to recite the Gettysburg Address. That morning, as if I done nothing unusual, she drove me home and her old black Plymouth, its benders rounded like a camel's hump.
"You might still find that pony," Miss Genevieve said. "At any rate, you'll get beyond it," meaning my loss.