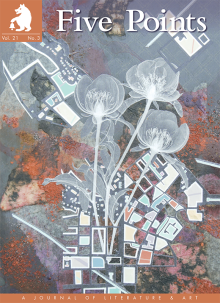 BUY PRINT EDITION
Five Points, Vol. 21, No. 3
Sample Content
Corrado Govoni
Translations from the Italian by Paula Bohince
Ventaglio Giapponese
Paesaggio
La casina si specchia in un laghetto,
pieno d'iris, da l'onde di crepone,
tutta chiusa nel serico castone
d'un giardino fragrante di mughetto.
Il cielo, dentro l'acque, un aspetto
assume di maiolica lampone;
e l'alba esprime un'incoronazione
di rose mattinali dal suo letto.
Sul limitare siede una musmè
trapuntando d'insetti un paravento,
e d'una qualche rara calcedonia:
vicino, tra le lacche ed i netzkè,
rosseggia sul polito pavimento,
in un vaso giallastro, una peonia.
***
Japanese Fans
Landscape scene
The cottage is reflected in a pond
full of iris, crepe-like waves,
enclosed within the silky circle of a garden
fragrant with lily of the valley.
The sky, in the water,
looks changed, as if into raspberries.
From its bed, dawn crowns
the morning roses.
On the edge, a young lady sits
stitching insects onto a screen
that resembles veined quartz.
Nearby, lacquers and ivory figurines
redden a polished floor.
In a yellowish vase, a peony.