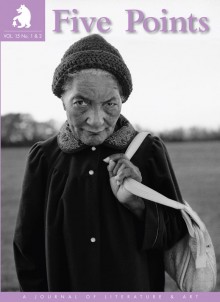 BUY PRINT EDITION
Five Points, Vol. 15 No 1&2
Spring 2013
From James Dickey, "I meant to write about the universal need for contact that runs through all sentient beings and will be served, even if it creates monsters. It's too strong for everything."
Sample Content
Giovanni Pascoli
Translations by Taije Silverman and Maria Della Putta Johnson
Night-Blooming Jasmine
after Pascoli's "Il gelsomino notturno"
And the night flowers bloom
in that hour when I think of my family.
Late butterflies flirt with the skirted
white petals of arrow-wood trees.
For a while, the sky has been quiet.
Under birds' wings, the nests sleep
like eyes, resting beneath lashes.
At the end of a street, a house sighs.
A scent of red strawberries flows
from the blooms' whorled bowls.
In the hall of the house, a lamp
glows. Grass grows on graves.
A late bee hums in a hush of air,
having flown home to find the hive full.
The Pleiades steer their chirping stars
through the sky's bright blue farmyard.
All night that ripe red scent
exhales, trailing behind the wind.
Carried upstairs the lamp shines
from above; then goes dim . . .
It's dawn: the petals have turned.
They seal back up, slightly torn.
There broods—in the soft, secret urn—
some new happiness I cannot name.