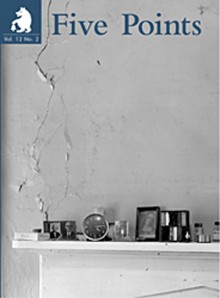 BUY PRINT EDITION
Five Points, Vol. 12 No. 2
Fall 2008
From Philip Schultz, "I always thought if I gave up poetry it would lead to happiness, because I was always writing about how unhappy I was, and it turned out to be the opposite."
Sample Content
Kerry Madden
Words on Fire
When Harper Lee barred her door and would not speak to me regarding a young adult biography I was writing about her, it wasn't personal.  She turns everybody down—she'd even turned down Oprah and George Plimpton, so I was disappointed but not surprised.  I ignored my father's advice:  "Wear her ass down! Try again!" He was a former football coach, and it was much like the guidance he used to give us as kids after a forced move to another town, a new mascot and team colors looming:  "Get in there and make new friends," he'd demand.  "Wear their asses down! By God, they'll respect you for it." Maybe it was good advice, and I certainly followed it now and again out of sheer desperation, but I knew "stalking" Miss Lee would not work, and I didn't have the stomach for it.  It seemed, well, wrong.
When I first began my research, Jeannie Thompson of the Alabama's Writers Project told me that since I was writing this biography of Harper Lee for teens, I absolutely needed to speak to Mary Ward Brown, Kathryn Tucker Windham, and Helen Norris Bell.  With close to three hundred years of living between them, they were Alabama women and writers of Harper Lee's generation born in 1916, 1917, 1918.  Miss Lee is the youngest of the group—born in 1926.  They would be a wonderful resource, if they agreed to talk.  Mary Ward Brown and Helen Norris Bell both won the Harper Lee Award for Distinguished Alabama Writer.  Harper Lee nominated Kathryn Tucker Windham to be inducted into the Alabama Academy of Honor in 2005, and when "Nelle Harper" calls Kathryn up for a talk, she typically begins with, "Hey kid!"
My initial impulse in talking to these three Alabama authors was to gain insight into the world of To Kill A Mockingbird, but that went out of the window almost immediately.  All three are such rich storytellers themselves that I longed to capture their own stories and not just interview them as conduits into a deeper understanding into Miss Lee.  How did they keep their hope and stories alive?  How did they sustain decades of writing and not writing?  Listening to them talk also brought me back home.  They used phrases like "taking the cure" (to dry out) and "hanging crepe" (writing sad stories).
These women hadn't left the South as so many of their contemporaries had in search of a more literary life.  They were like Flannery O'Connor, Ellen Douglas, and Eudora Welty—writers who dug in and stayed in towns like Milledgeville, Georgia and Jackson, Mississippi.  When I asked Kathryn Tucker Windham of Selma, Alabama, "Did you ever want to leave?  Move to New York?" her answer was a declarative, "NO!" as if it were the craziest question, which made me laugh, and she laughed too.