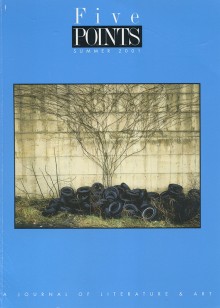 Five Points, Vol. 5 No. 3
Summer 2001
From David St. John, "I think that one of the great dilemmas of contemporary poetry is that there's a kind of reliance on reportage. Whether it's domestic or political, there's a sense that the illusion of truth, the illusion of a particular journalistic truth necessarily occasions great consequence, and that's just not so."
Sample Content
Janet Burroway
I Didn't Know Sylvia Plath
"…because to be Jewish—or Irish or Italian or African-American or, for that matter, a woman of the fifties caught up in the first faint stirrings of feminism—was to be compelled to fake it in a thousand small ways, to pass as one thing when, deep inside, you were something else."
—Malcolm Gladwell, True Colors
The note in my Cambridge Pocket Diary for Saturday, 7 May 1960 reads "Ted & Sylvia dinner," but doesn't give an hour or an address. The diary otherwise contains a wonder of information. Two-and-a-half inches by four, its tissue-thin pages massed to a mere quarter-inch, it nevertheless records the hour of every sunrise and –set, dates of eclipses and bank holidays, the schedules of trains, coaches, libraries, botanical gardens and the closing of the Back Gates. It lists academic society meetings for Lent, Michaelmas and Easter terms; the rugby, hockey and cricket meets, the Moveable Feasts, the University Officers and the phone numbers of the colleges—though in my experience no student had a phone. It gives the Order of The Boats. It dates the dread Exams.
My own penciled entries are more tantalizing. Paging backward from the Ted and Sylvia dinner, I easily recall "(David) Daiches" and "Maggie (Drabble)" and "Eleanor (Bron)," but not "Fenner's" or "Braithewaite" or "Jack." There was a "Commemoration Dinner" on Saturday April 23rd, but what it commemorated I no longer memorate. I remember the meeting with "Dadie (Rylands)," and—here it is: Thursday, April 21st, "Faber—6:0."
That was the publisher's reception at Russell Square where we'd run into each other, and about which Sylvia wrote to her mother and brother on April 26th, excited to be back among the literati, preening at others' amazement that she had given birth only three weeks before. The tone of her letter is postpartum-manic, the party sandwiched between plans for dinner with the Spenders and the Eliots and new success with her poems at The Atlantic Monthly. She describes me as a "lively American girl" whose novel Faber is publishing and "whose path crossed mine often in America," and mentions that she has invited me and my Indian poet friend to spaghetti dinner. Then she goes on to boast of her husband's arty friends, and of drinking champagne while feeling "very grand and proud of Ted."
The Faber reception took place in the heady spring of the Hugheses' burgeoning: their daughter's birth, a book apiece, projects for the BBC, even the flow of a little money. It would be nearly three years before the marriage blew apart, before Sylvia wrote her great poems and committed suicide, and so set in motion a hagiographic industry. At the time it must have seemed that fame could be grasped as an act of will, with no more sturm than ambition had already stirred in them.
But I don't know about that. I didn't know Sylvia Plath, and this piece is not about her but about me—or about a particular kind of lit-and-print-mad girl of the fifties, whose thwarted hunger augured a shift in what we mean by marriage.