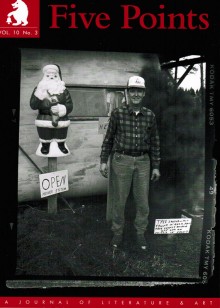 Five Points, Vol. 10 No. 3
Fall 2006
From Richard Howard, "I'll have to go back a ways in order to respond. In teaching the works of Marianne Moore, of George Santayana, and of Henry James, I run into this question. These three people, apparently, had very little erotic connection with any other human being, as far as we know."
Sample Content
Thomas Lux
Toad on Golf Tee
First, I sought a toad in the rubble-filled ring
of a gone silo's cement
foundation. They like to hide
and hop there. Once acquired,
I took him to a spot
just to the peachless peach tree's left, a slightly down sloping
patch of lawn. I teed him up, sideways.
I wanted to launch him by the ribs
toward my target: a steep barn roof
fifty yards away, over a driveway,
a rock garden, over more asphalt
and a short swatch of bad grass.
For this I'd use a nine iron: I needed lift
and if the toad landed where I wanted him to land
(just short of the roof's peak)
then he will roll back down: reusable, re-teeable, toad.
My short game was good.
The weather vane's rooster said the wind was right.
The sound—for I kept my backswing slow
and my eye on the toad—fired
to my face: thwuuuump!
It was a perfect pitch shot: he dropped inches from the top,
rolled a few turns earthward
and stopped. It took a week
for his disarticulated bones
to slide down the sharp slope
and land in the little valley of stones
the rain excavates
when it falls, too, from the eaves.