Featured Poetry: "At the Degas Exhibit" by Gregory Fraser
by admin · April 24, 2013

As you all know, our double issue of Five Points Vol. 15, No. 1&2 is on sale now, and we'd like to give you a little preview of one of the poems you'll find inside:
At the Degas Exhibit

by Gregory Fraser

***

The docent wends us to The Dance Class

and it all flits back: the studio downtown,

few bucks an hour, ragging off the finger

***

grease of toe-shoed cygnets, tutu-ed swans,

scudding hardwood and ignoring both

of me—spray of acne, high-top Keds.

***

I would clatter on the local after school

(weekends once the Christmas pageant neared),

my face at every stop floating outside

***

the window beside my seat—a mask

tried on by stars in movie ads, commuters

cooling heels for later cars. Then Windex,

***

buff, till six, waving hello, farewell,

from glass to glass, plié to pointe—my hand

emitting squeaks, eliding dainty prints and streaks.

***

In my knapsack: comics, Catcher, lunch

untouched. And never once did I happen on

the courage even to speak to one of those

***

sugar plums of Rittenhouse, Society Hill.

Degas's girls, our guide informs, practice

attitudes, inspected by their master

***

(one Jules Perrot) propped on his staff.

Note the Parisian mothers daubed

on the wall in back. Yet I see only tights

***

that bear the stamp McDevitt Dance,

hear gripes about third position, giddy talk

of boys. And search the sides and corners

***

for my Old World counterpart—some

sponge-and-bucket kid from a ragged edge—

undersized, near-sighted, invisible to art.
Here's a little more info on Gregory Fraser: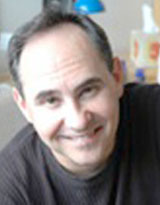 Fraser is the author of two poetry collections, Strange Pietà (Texas Tech, 2003) and Answering the Ruins (Northwestern, 2009). He is also the co-author, with Chad Davidson, of the workshop textbook Writing Poetry: Creative and Critical Approaches (Palgrave-Macmillan, 2008) and the composition textbook Analyze Anything: A Guide to Critical Reading and Writing (Continuum, 2012). His poetry has appeared in journals including the Paris Review, the Southern Review, the Gettysburg Review, and Ploughshares. The recipient of a grant from the National Endowment for the Arts, Fraser serves as associate professor of English and creative writing at the University of West Georgia.
Purchase copies of Five Points here!