Four Books to Read this Indigenous Peoples' Day
by Reese Cody · October 09, 2017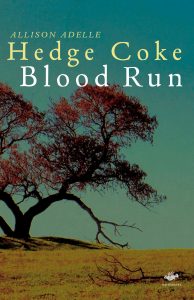 Although in recent years the general population has seemed to become more aware of Columbus's atrocities, today Columbus Day, the holiday, is still being celebrated in America. In response, many cities and states across the nation have decided to change the day to Indigenous Peoples' Day. If like the majority of Americans you don't live in one of these places, you can celebrate by reading a wonderful Native contemporary author.  
1. Blood Run by Allison Hedge Coke
In this freeform play, Allison Hedge Coke recounts the history of the overlooked monument that was once home to over 10,000 people. Although the mounds were named after the iron-dyed soil that appeared red, the name fits the gruesome annihilation and exploitation of the many tribes there during the colonial era. Through her free verse poems, Hedge Coke personifies the natural surroundings of the mounds to shift the perspective from the colonial invaders to the heartbreak of the Natives. The narration flows so smoothly that you'll eat this book up in one sitting!
2. The Absolutely True Diary of a Part-Time Indian by Sherman Alexie
Although this is a Young Adult novel, its wit and charm can be enjoyed by anyone. The novel follows Junior, a 14 year-old aspiring cartoonist and his life on the Spokane Indian Reservation. Despite the novel's comical tone, it manages to deal with real issues that plague so many Native reservations such as alcoholism and lack of government assistance. The mixture of narration and comic strips makes this a great novel for young adults to learn about the life of a teen on a reservation as well as the prejudice that still haunts Natives today.
3. The Round House by Louise Erdrich
Louise Erdrich's books continue to explore and reveal the complexities of the Native community. In The Round House, she follows Joe Coutts, a 13-year old Ojibwe, as he attempts to unravel the mystery of his mother's sexual assault. His frustration grows as neither the tribal nor the federal police can crack the case. This book pulls you in, and you'll be sad that it ends.
4. Totkv Mocvse New Fire Creek Folktales by Earnest Gouge
This book follows the work or Earnest Gough for the first time in one set novel. Gough collected and translated Creek myths and legends to be featured in a study by John Reed Swanton. Swanton ended up not using Gough's works and his collection sat untouched for over eighty years. The translators took special care to honor the translation and worded the stories to honor the Creek language and the original intent. This book is perfect for anyone who wants to learn more about Creek legends from a direct source.