Connecting with Eleanor Coppola's "Notes on a Life"
by Ansley Kent · April 18, 2017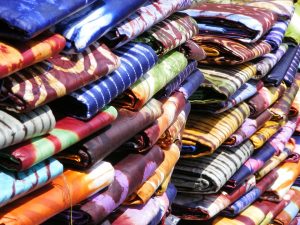 Spring graduation impends for students of all ages, and there are many, like myself, who are asking the question of where to go next? For some, it will be met with relief, as colleges and universities sent out acceptance letters weeks ago, and their decisions are made. For others, like myself, decisions are not as concrete, and I find myself wondering if it is time for a change of scenery. With new freedom comes the opportunity to travel abroad or relocate to a new place in my city or to a new city entirely. The possibility of experiencing new things reminded me of this passage from Eleanor Coppola's essay "Notes on a Life".
"I sat down quietly to meditate and ask myself what the right decision was. I closed my eyes but before I could ask the question, an inner voice shouted 'Go!'"
First published in Five Points Vol 12. No. 1, Eleanor Coppola recounts her somewhat spontaneous decision to travel to Southwest China with a friend to see and experience the making of ethnic textiles. During her trip in the summer of 2004, she observes citizens in their day-to-day lives, wearing beautiful textiles while doing seemingly ordinary tasks.
"We look back with interest, as they are wearing finely pleated indigo skirts and indigo jackets decorated with batik and turquoise patterns of exquisite embroidery. They have indigo and white head wraps and large silver earrings. These are Miao women (an ethnic minority) wearing the traditional clothing of their nearby village . We smile and wave. They seem shy; curious about us, they smile and giggle but don't move from their tasks, continue working unself-consciously in their handsome handmade clothing and jewelry."
Experiencing a new culture can be daunting at first; adjusting to unfamiliar technologies, working around language barriers, and navigating an unfamiliar world can prove to be tasks difficult for anyone. My first time abroad at the age of 17, I went to France with a group of high school musicians, and while we weren't there for long, I remember the frustration I felt when ordering food or asking for directions. As grateful I was for being there, these barriers can quickly turn an new experience from one of joy and excitement to exasperation and anxiety. Coppola describes some of these struggles in her piece, detailing some of the the sights and smells she came across on her journey. But overall, Coppola seems to blissfully engage and observe the new culture with open eyes and vibrant details. She even receives a reciprocation of appreciation for American culture and the sharing of different cultures while abroad from a young guide.
"He tells me he is watching the NBA play-offs. 'The Lakers are playing the Pistons. I'm getting up at 4:00 a.m. to see that game live.' He treats me politely but when I tell him I've seen the Sacramento Kings play and sat on the floor right behind the coach's bench, his eyes sparkle with excitement and his attitude toward me changes dramatically." 
Perhaps my favorite of Coppola's accounts of her time abroad appears at the end of the essay. While visiting the city of Kaili, she witnesses "the process of creating a distinctive dark, glossy green-gold fabric". She takes out her video camera to preserve and document the physical process, and as she records, the young children in the house fascinate over her technology.
I experienced a similar encounter on the same trip I took in high school when we travel to Switzerland. My friends and I decided to visit a playground in the town of Crans-Montana where we were staying. While we were on the swings, a family of three walked up with their small daughter. The parents sat down on a near bench while the child ran for the play structures. Thinking we would need to leave to give the child space to play, the child soon came up to us, speaking French, asking us to push her on the swings. It took  a moment for her request to be translated, but with a nod from her parents, we obliged. We spent the next 45 minutes of our time abroad playing on a playground in Switzerland with a little girl who we could not understand, and it remains a warm memory in my heart seven years later. We often think when traveling that the new experiences are ours and ours alone, but sometimes, as in my and Coppola's case, the experiences of discovery can be mutually shared and enjoyed.
"I took out my video camera and as I bent down to capture details of the wife stirring dye in the bottom and of her chipped crockery pot I could hear runny noses sniffling by my ears as children peered over my shoulder to look into the camera monitor. I turned the camera toward them and rotated the monitor so they could see themselves on the screen. They laughed excitedly, pushing and shoving each other into the picture."  
Coppola paints a beautiful and real picture of the beauty and effort of traveling and experiencing cultures beyond our own and how remarkably special it can be. And while the chance to travel China is not the chance that us graduates will be facing, it serves to remind us all that sometimes, you must listen to that inner voice, telling you to "Go!".
(Image is a courtesy of Flickr through Creative Commons.)
Ansley Kent is an undergraduate student at Georgia State University, majoring in English with a concentration in Rhetoric and Advanced Composition. She is an intern for Five Points for the Spring 2017 semester.