Edward Hirsch Reading at GSU on April 2nd, 3:00pm
by Megan Sexton · March 27, 2015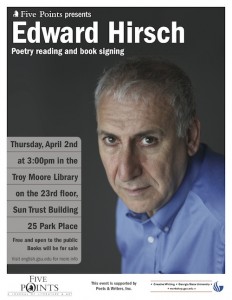 We are honored to be hosting Edward Hirsch at GSU on Thursday, April 2nd. He will read from his poetry and also sign books. The reading will take place in the English Department's new home on the 23rd floor of the Sun Trust Building, 25 Park Place.
Edward Hirsch has received numerous awards and fellowships, including a MacArthur Fellowship, a Guggenheim Fellowship, an Ingram Merrill Foundation Award, a Pablo Neruda Presidential Medal of Honor, the Prix de Rome, and an Academy of Arts and Letters Award. In 2008, he was elected a Chancellor of the Academy of American Poets.
His first collection of poems, For the Sleepwalkers (1981), received the Delmore Schwartz Memorial Award from New York University and the Lavan Younger Poets Award from the Academy of American Poets. His second collection, Wild Gratitude (1986), won the National Book Critics Award.
Since then, he has published six additional books of poems: The Night Parade (1989), Earthly Measures (1994),On Love (1998), Lay Back the Darkness (2003), Special Orders (2008), and The Living Fire: New and Selected Poems (2010. Hirsch is also the author of five prose books, including A Poet's Glossary (2014), The Poet's Choice (2006), which consists of his popular columns from the Washington Post 's Book World, and How to Read a Poem and Fall in Love with Poetry (1999), a national bestseller. His most recent book of poetry is Gabriel: A Poem (2014). He is president of the
 John Simon Guggenheim Memorial Foundation.