Join us for the Launch of our Flash Fiction Issue!
by Megan Sexton · November 17, 2016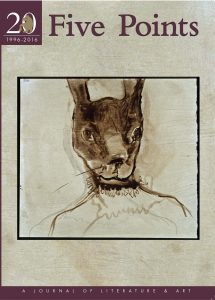 On Thursday, December 1st, please join us for a reading and launch party for the fall issue of Five Points featuring flash fiction edited by Josh Russell. Readers include Amber Nicole Brooks, Karen Gentry, Michael Martone, and Lauren Watel. The editors will also read flash pieces by Lynn Mundell, Emily Webber, and Martin Ott. The event is free to the public. Come for drinks at 6:30pm. The reading starts at 7:000pm. This year is the 20th anniversary of Five Points: A Journal of Literature and Art.  The event is sponsored by Possible Futures.
Venue: Whitespace Gallery, 814 Edgewood Ave., Atlanta, GA 30307.