Five Points Volume 14.3 On Shelves Now!
by Megan Sexton · August 22, 2012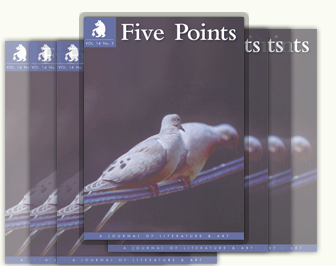 Five Points Volume 14.3 is out on shelves now! Learn more about the new issue and order a copy here!
This issue features works from the following authors, poets, and artists:
Edward Hirsch
Mark Jarman
A.E. Stallings
David Kirby
Anne Marie Macari
R.T. Smith
Linda Pastan
David Wagoner
James Wooden
Ron Houchin
Tania James
Nancy Zafris
George Singleton
Hugh Sheehy
Debra Spark
James Rioux
Beth Gylys (Interview with A.E. Stallings)
Cynthia Farnell
Ernest G. Welch
For a full table of contents, click here!
Be sure to visit the Five Points website for a sample poem and more information on the issue!