Melodically Challenged: GSU's Poetry Radio Show
by Mike Saye · March 17, 2014

Every Sunday afternoon from 2:00pm to 4:00pm, students from Georgia State University's Creative Writing Program compile a program of contemporary, traditional, classic, slam, and avant-garde poetry and indie music and divide all that goodness into two one-hour radio shows; the first hour is a syndicated program that's pre-recorded and sent across the country to eight (and counting) college radio stations (get in touch with K. B. Kincer at kkincer1@gsu.edu or through the Melodically Challenged website or visit them on Facebook  if you want the program aired on your college radio station – it's free!). The second hour is a live radio program of recorded poetry and music. The poetry ranges from canonical to emerging, lesser known to infamous, and the music reflects a similarly eclectic range of tastes: blues, folk, hip-hop, indie-pop, jazz, classical, etc.

Melodically Challenged is the brain-child of Robert Morea III, who was an undergraduate majoring in English at Georgia State University. In 2006, he had just been appointed Program Director of WRAS, Album 88, Georgia State's 100,000-watt radio station, the largest student run college radio station in the country. Morea's initial programming consisted of a series of Academy of American Poetry CDs that he purchased with his own money and played with a few tracks of alternative music played between stretches of verse. Born with Cystic Fibrosis and the recipient of a double lung transplant three-and-half-years prior, Morea contracted an infection and passed away barely a month after the show first aired. The current director of the show, K. B. Kincer, tries to live up to the vision that Morea created. The program is dedicated to him.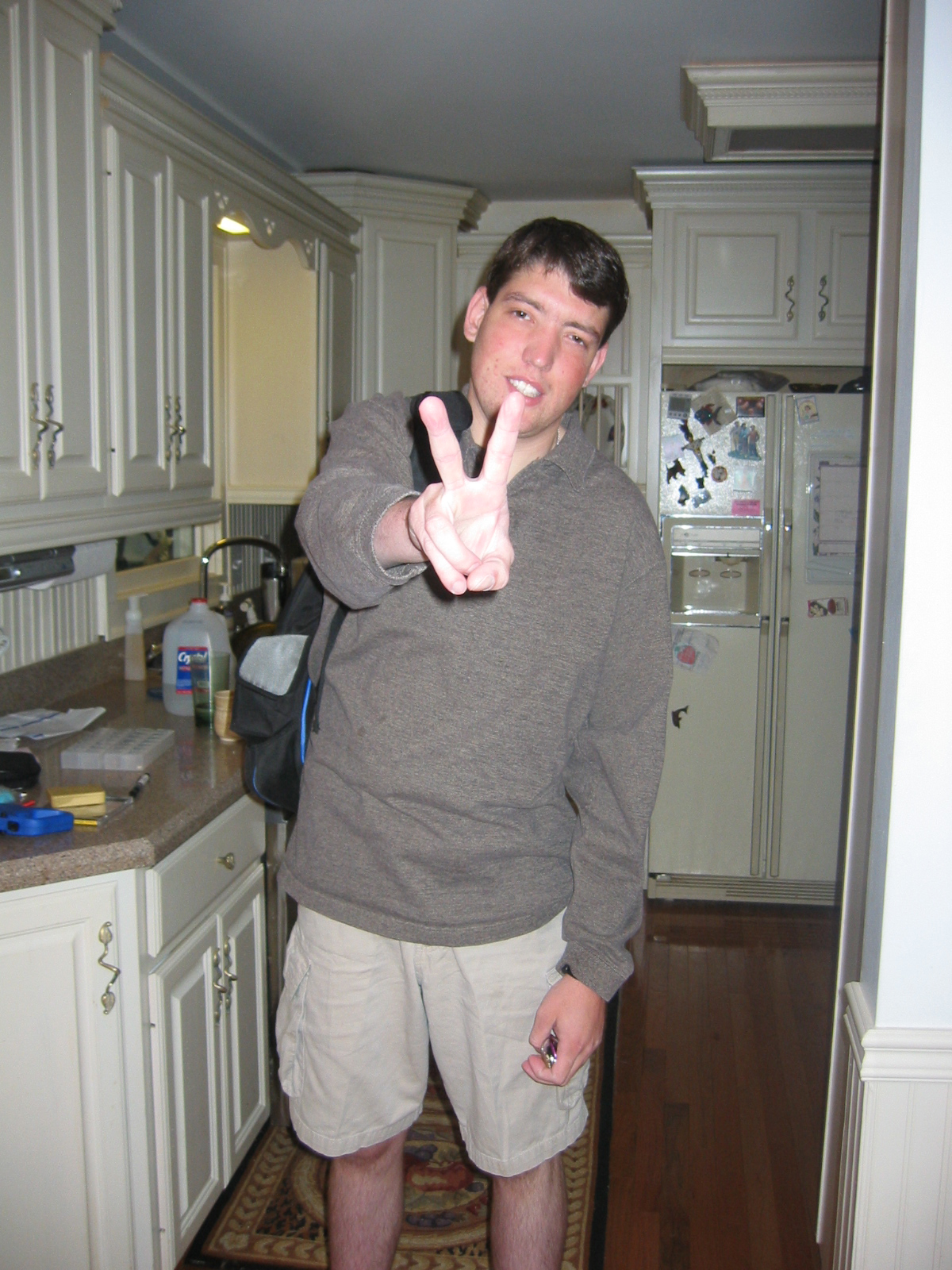 Melodically Challenged's creator Robert Vincent Morea,  1-6-79  to 6-20-06
 I sat down with K. B. Kincer, the shows current director, a poet, doctoral student, and undergraduate teacher at Georgia State University to discuss Melodically Challenged, its purpose, the production process, and what it's like to juggle writing poetry, teaching undergraduates, and coming up with two hours of radio-worthy poetry 52 weeks a year.
 Melodically Challenged allows listeners to experience poetry as a living breathing medium every week for two hours. "The people you hear on Melodically Challenged are the poets," says Kincer. "This is the real deal. This is like you're at the reading…"  According to Kincer, "The goal of Melodically Challenged is to introduce college audiences to great poetry: contemporary, traditional, historical, and avant-garde. I think most people have no idea that there's this art form that's accessible and, I think, will improve their lives. When we have a disaster or something we can't comprehend, we turn to poetry… [but] there are poems for all aspects of our lives: funny, miserable…"
The show does a remarkable job of making real poetry appealing to a contemporary audience. If you click the link above and give some of these shows a listen, I think you'll find yourself agreeing with Kincer. The great thing about the program is that it isn't for one kind of listener. Melodically Challenged has had shows devoted to Slam poetry, contemporary southern poetry, the poetry of Gerard Manley Hopkins. Kincer has hopes of eventually producing a show devoted to Milton, one that's palatable to a general audience. But regardless of the show's topic or theme, what the listener experiences is an intimate, personal interaction with the poetic word.
In order to facilitate a connection between the radio audience and the poetry, the format of the show can't be one random poem after the next, so each episode is set up based on a theme, and the staff searches for the best poems they can find that reflect, directly or indirectly, that theme. Shows have been about dead animals, live animals, cars, sports, cities, the body, states, sweets, rain, food, seasons, trees, music, booze, etc. Sometimes the theme is more abstract: "failed love," time, pop culture, back-to-school, poems about darkness, spiritual poems, poems related to holidays. The most intriguing themes, for me at least, are about the structure of the poems themselves: "poems that end in questions," "ends in simile," "ends with an image," poems with a literary allusion, and ekphrastic poems.
It takes a lot of work to compile two hours' worth of theme-centered poetry each week. In addition to her teaching duties, studying and reading for classes, and writing her own poetry, Kincer puts an average of 30 hours a week into the radio show, but the choice of poems, music, and themes for the show is group effort, and Kincer is quick to point out how much work the other student staff members do. I didn't speak with the other members of the staff about the number of hours they put into the program each week, but between all four members of the staff, it's at least a full-time job to produce Melodically Challenged.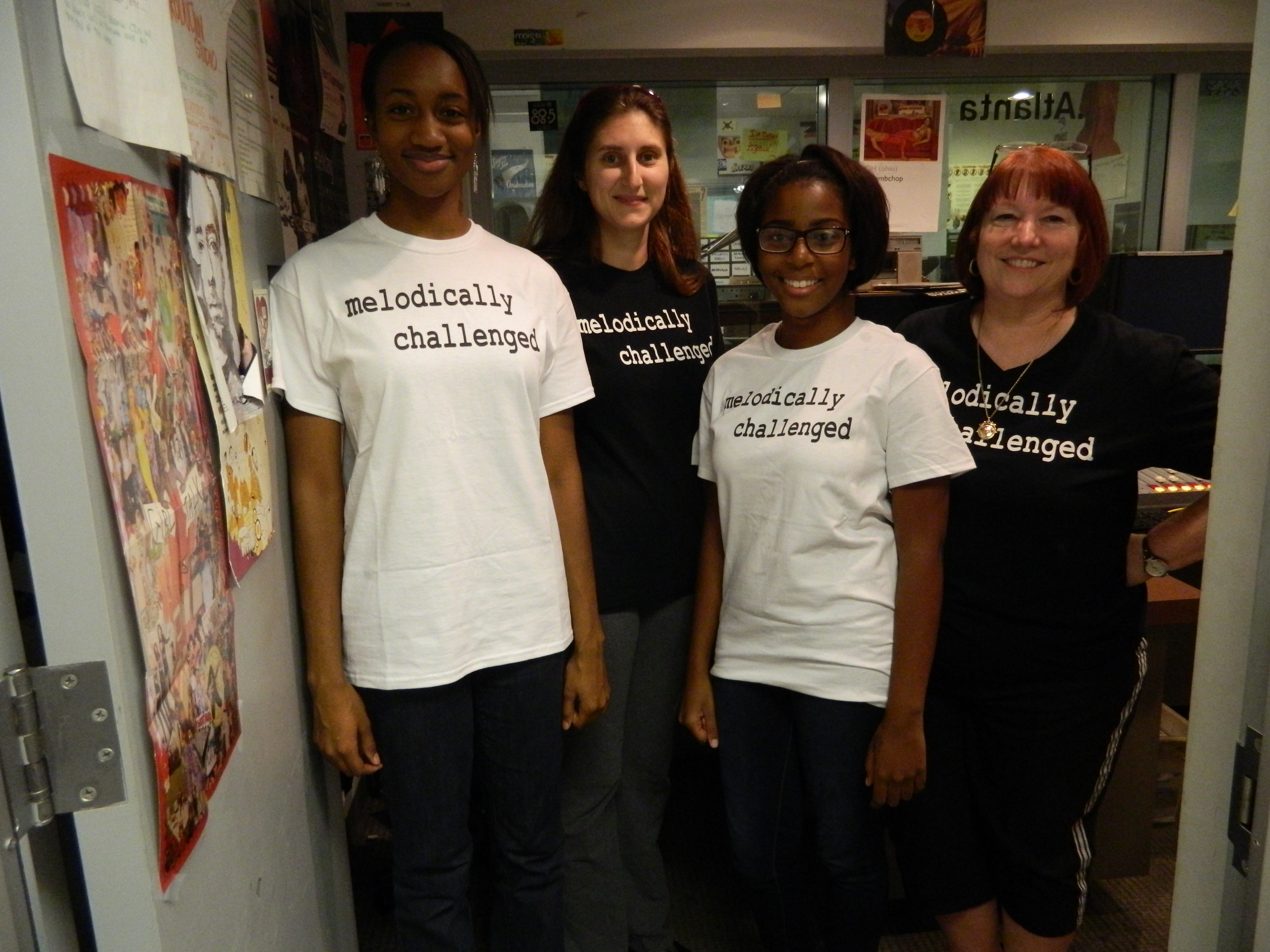 The Melodically Challenged crew working on their Girl Power show
The other component of production that supports the high standards of the show is backing from the administrators at Georgia State. In a world where the arts and cultural programs are tossed to the wayside and artists have to fight and fend for themselves for a public space, the administrators at Georgia State are a light in the darkness. Kincer asked me to include her thanks in this post: "I'd like to thank the English Department at GSU for unanimously voting to sponsor the show. Without their sponsorship, we could not syndicate the show, and Dr. Pearl McHaney [the Associate Dean for the Fine Arts] has also been very supportive, allowing us to use her office, which gives us an official address."