Floating the Boat
by Lindsay Green · March 30, 2017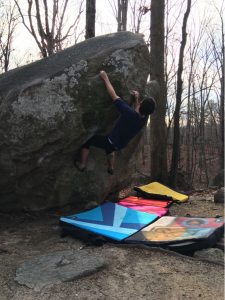 This is the first in a series of pieces on "A-Town Oddities" I wrote for Five Points Literary Journal, featuring unusual and intriguing sites in Atlanta off the beaten path.
One night after closing the restaurant, I was smoking cigarettes by the dumpster with one of the line cooks. We both worked at a trendy gastropub in Downtown Lawrenceville. He was scruffy and smelled of degreaser. Bathed in the yellow light of the street lamp, our knees touched. His beanie seemed to be held up by his impossibly long eyelashes and a rose tattoo peeked out from underneath his shirt sleeve on his bicep.
When he invited me to go bouldering with him at Boat Rock Preserve, an urban boulder field located south of Atlanta, I neglected to mention my immobilizing fear of heights or that I wasn't entirely sure what bouldering entailed. Nevertheless, he picked me up the next morning with breakfast sandwiches in hand.
He mentioned that I would need special shoes that help my toes grip the rock. He offered to let me borrow his but, being the spontaneous girl that I am, I suggested we duck into REI on the way down 85. I was living with my parents at the time, so dropping $85 on a new pair of climbing shoes that I may or may not ever wear again was of no consequence. Oh, how my heart longs for a time before bills.
As we browsed shoes, he taught me about the sport. I was uneasy to learn that bouldering is a type of rock climbing without ropes. With the help of strategically placed crash pads to cushion an inevitable fall, climbers cling to tiny hand holds and move their bodies with a dancer's grace toward the summit.
It was a surprisingly short drive south through the city. I admit, I was second guessing the excursion and thought I would have more time to psyche myself up on the way there. Before I knew it, we were pulling onto Boat Rock road.

Large, egg-shaped boulders and abundant foliage make the site feel far removed from the urban environment that surrounds it. Hyped up on adrenaline and carrying the weight of first impressions, I scurried up my first climb, "Easy Crack." Even now, as I type this the keyboard is damp with sweat.
Boat Rock is open to the public year-round and even hosts an annual bouldering competition called Float the Boat.
At this year's competition in February, bodies dangle off huge granite slabs, supported only by their raw fingertips and a pair of rubber climbing shoes. On a chilly morning, climbers from all over the Southeast gather at Boat Rock Preserve to compete in the Float the Boat bouldering competition.
There are 20 different categories in which climbers compete, ranging from Kid's Beginner to Iron Man, which involves climbing as many routes as possible in the allotted six hours. Another category, Crack Master, entails summiting all of the crack climbs at Boat Rock as fast as possible.
This year's Crack Master Champion, Evan Raines, explains, "It's cool because we have so many divisions, so everyone can fit in some place. I wouldn't fit in Men's Open very well with some of the really strong guys that are here, at least Boat Rock strong guys."
This sense of inclusion also extends to the attitudes of the climbers, who are all too willing to offer advice to anyone struggling with a new climb. Words of encouragement are spoken liberally over the 7.8-acre tract. Daniel Schnaak, a first-time competitor says, "Hearing my friends cheer me on is the extra motivation I need to get to the top."
The competition raised over $9,000 for the Southeastern Climbers Coalition (SCC). Mellow Mushroom and Sierra Nevada sponsor an after party, including a big reveal for competition results. Almost 400 participants competed this year, a record high.
However, without the help of the SCC, there would be no boulders left to climb. Bob Cormany began climbing at the site in 1983, when it was easily double the size it is today. He climbed without chalk to absorb moisture or crash pads to cushion his fall.
When construction for housing developments began demolishing boulders, the SCC sprang into action to preserve the boulders still left standing. They managed to raise enough funds to purchase the land and pay off the mortgage, ensuring the boulder field would stay intact for years to come.
Cormany is responsible for setting a majority of the routes at Boat Rock. One of the most notable is "Paint Can," which he first summited with the assistance of a paint can to give him a boost to reach the hand holds.
"It's all footwork at Boat Rock," explains Cormany, "You climb on the balls of your feet. At climbing gyms, they teach you to stand on the tips of your toes … but you have to forget you have toes and put the ball of your foot up there and stand up. That's Boat Rock."
Boat Rock sets itself apart from over boulder fields because, as Cormany explains, "it's almost impossible to climb." With a lack of clear hand holds, climbing at Boat Rock is challenging for even for those with experience. However difficult, Boat Rock has captivated many who welcome a challenge. Cormany adds, "It's the only sport on the planet that even on your worst day, if you break your foot, you still have a great time with your friends."
My first visit to Boat Rock was almost four years ago. That unkempt line cook is now my husband and we've visited Boat Rock countless times since. I have not conquered my fear of heights, but each time I push myself outside of my comfort zone, I learn that I'm stronger than I think I am. For me, climbing is an exercise in the body quieting the mind.
Getting There:
Boat Rock is located off Fulton Industrial Boulevard at 1220 Boat Rock Road. The best season for bouldering is fall-early spring. The drier the air, the better your hands stick to the rock.
Lindsay Green is an intern at Five Points and the main contributor to "A-Town Oddities." She is an undergraduate student at Georgia State University majoring in Communications with a concentration on Media and Society, and minoring in English.