January 29th: the 50th Anniversary of Robert Frost's Death
by Megan Sexton · January 30, 2013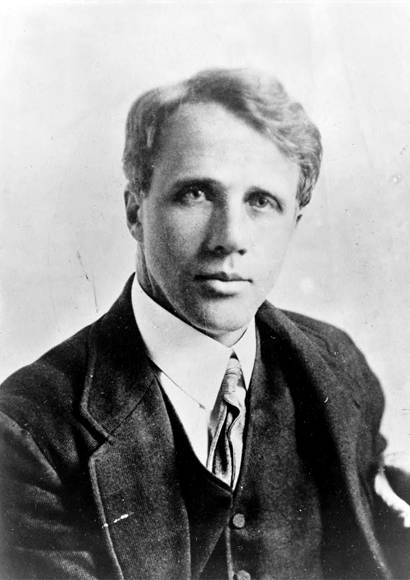 Yesterday, January 29, marked the 50th anniversary of poet Robert Frost's death. I'm fairly certain that most of you have read his more famous poems, but they're always worth another look-over, right?
The Road Not Taken


***


Two roads diverged in a yellow wood,
And sorry I could not travel both
And be one traveler, long I stood
And looked down one as far as I could
To where it bent in the undergrowth;


***


Then took the other, as just as fair,
And having perhaps the better claim,
Because it was grassy and wanted wear;
Though as for that the passing there
Had worn them really about the same,


***


And both that morning equally lay
In leaves no step had trodden black.
Oh, I kept the first for another day!
Yet knowing how way leads on to way,
I doubted if I should ever come back.


***


I shall be telling this with a sigh
Somewhere ages and ages hence:
Two roads diverged in a wood, and I--
I took the one less traveled by,
And that has made all the difference.
If you'd like to read more of Frost's poems—or more about Frost's life in general—here are some great links to enjoy:
This site includes biographical information and a large number of poems to peruse.
The Poetry Foundation also features biographical info and a selection of poems, as does Poets.org.
If you're looking to purchase physical copies of Frost's poetry, I would suggest this one if you're looking for only a selection of Frost's most famous works, this one if you're looking for something a little more comprehensive, and this one if you're looking for the complete works all in one whopping hardcover volume.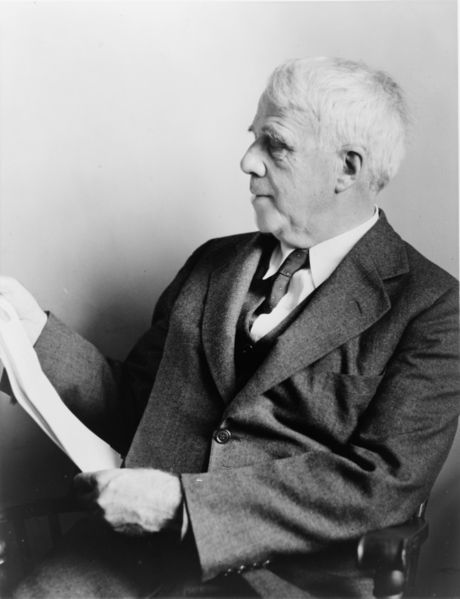 I have to admit that Frost is my favorite poet, probably because of his ability to craft poems that are at once beautiful, meaningful, and yet still accessible to a great variety of readers. His most famous poems are excellent, but I'm currently reading through a more comprehensive volume of his works, and I'm amazed at how many lesser-known poems I'm also enjoying. So if you have the time, I'd definitely suggest checking more of his poems out!
For now, I'll end with a selection of some randomly enlightening quotes by Frost (you can read all of these and more here):
"In three words I can sum up everything I've learned about life: it goes on."
"Poetry is when an emotion has found its thought and the thought has found words."
"Freedom lies in being bold."
"A diplomat is a man who always remembers a woman's birthday but never remembers her age."
"The brain is a wonderful organ; it starts working the moment you get up in the morning and does not stop until you get into the office."
"And were an epitaph to be my story I'd have a short one ready for my own. I would have written of me on my stone: I had a lover's quarrel with the world."