No Regrets with "Things I've Done Since She's Stopped Calling" by Laura Dave
by Linda Tran · February 06, 2017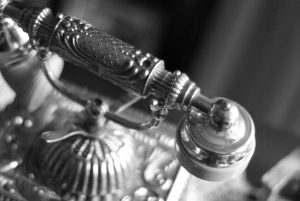 The motto of life: you don't know what you've lost until you've lost it. It's a global feeling from the loss of tiny trinkets to huge human beings. We all begin our life journeys searching for what we do not already possess to finding it and fighting to keep it. Then it comes to a crucial point of deciding if the fight is even worth it and we begin to struggle with the line between familiarity and once-in-a-lifetime chances.
In "Things I've Done Since She's Stopped Calling" by Laura Dave, first published in Five Points Vol. 10, No. 1&2, we experience the emotions of not only loss of love but loss of chance as well. David Samuels is used to hanging up or not returning calls with zero remorse until he encounters a fiery lawyer. Dani is different­—someone who is "natural" with "faded jeans and one of those white peasant-looking blouses" and someone who lacks "that gene that made most of us treat people differently based on what we thought they could or couldn't get for us."  She makes you titter with tears and cry with cheer, and becomes the embodiment of hope in David's new era of life. So from long car rides to spending almost every night together, all those "small and big things" begin to form the feelings of love:
"By the end of September, Dani and I were seeing each other almost every night. It wasn't that we did much. It was that I didn't want to do anything but be with her. There were small things drawing me in deeper—like how she put salt on everything, and how she would spend six hours writing a letter, and bigger things—like the way her hair smelled, or how she was always the same Dani, whether she was dealing with the 10-year-old twins who lived across the street or the managing partner at her firm."
When Dani is about to depart to New York for Christmas with her sister, David does what is second-hand nature to him: ask her to call him there. It is his unfortunate way of saying goodbye and he instantly regrets his easygoing ways. He doesn't run into her again and later finds that she has married a "Bob." David settles down too, but the memories still linger around and he can't help but slip into them with Dani at the center:
"I was living back out west before I found out for sure, (heading the track program at a college near L.A., about to get married myself to a wonderful woman—though wonderful feels like too small a word to hold her—a musician), and, by then, Dani would only enter my conscience on certain occasions."
Along with David, we experience loss at a bittersweet level, understanding that life's choices can be missed and the lessons that come from them can be fixed in ways we may not want. This short story excellently portrays the fickleness of the human mind, yet the capacity it has to mend mistakes with resilience and perseverance.
(Image is a courtesy of Flickr through Creative Commons.)
Linda Tran is an undergraduate student at Georgia State University, majoring in English with a concentration in creative writing, and minoring in Marketing. She is an intern at Five Points for the Spring 2017 semester.