Connecting with Jennifer Haigh's "Thrift"
by Monica Johnson · February 20, 2015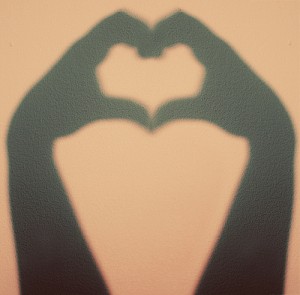 Hearts. Balloons. Red. Pink. Love. Ah, February.
Valentines, sold in neat packages, on printed greeting cards, and arranged in vases. Love sold as compact, predictable, and already made. Worry free love. Easy love. Love bought with plastic. Names applied.
As much as February reminds us that love exists, it is also a time to remember that love is not always what is promised, not always easy or worry free. Love is bound by complications.  It is not predictable, not arranged, and cannot be bought.
Perhaps that is why, when reading through the achieves this week, I was struck by the short story "Thrift," first published in Five Points Vol. 14, No. 1, by Jennifer Haigh:
'He's painting the house,' Agnes said.
'I can see that.' Terri's eyes narrowed. 'I saw Mrs. Lipnic at the market. She says his truck is parked here at all hours.'
Agnes busied herself at the sink. 'He's been doing some work for me. He replaced the gutters and the fence.'
Terri's eyes darted around the room, to Luke's boots lined up at the door, his can of snuff on the table, his jacket hanging from a hook on the wall.
'He's living here,' she said in a low voice. 'You're living here together. In Mum and Daddy's house.'
'Go home,' Agnes said softly. Go home to your husband. Let me have something."
Agnes, the caregiver, the dutiful daughter and loyal sister, lived a lonely life.  That is until she reached her 50th birthday, when love showed up unexpectedly through a storm, a broken house, and a tattered roofer:
"She thought of her own young womanhood, gone without her noticing: her twenties and thirties, her forties even; each decade much like the last.  It was pointless to wonder, now, how the years had escaped her.  The hundreds of days—thousands—when she might have brought a man a glass of water, and changed the course of her life."
Love, for Agnes, was not promised or easy. Haigh reminds us that love is never as expected, never wrapped neatly with ribbons and bows, never written out plainly in simple text across a heart. Love comes to each of us, in different forms at different times, and all we can do is embrace and accept it:
"Agnes knew it was true. Her mother's voice haunted her—You're throwing away good money—but she was learning to ignore it. Her time with Luke was beyond price. Their life together was a stolen thing – the months of happiness, years maybe, though she couldn't imagine being that lucky. She had the sensation, often, of living someone else's life. Sooner or later its rightful owner would steal it back.
Knowing this, she paid attention. She noticed everything: Luke shaving at her bathroom mirror, drinking coffee in her kitchen; his clean shirts spinning in her dryer in a dance of wild joy."
Like Agnes, take what you can and love while you have it, even if it isn't candy coated and sold in nice, neat packages.
Jennifer Haigh's latest work, News from Heaven, won the 2014 PEN/New England Award in Fiction and the 2014 Massachusetts Book Award.
---
Special thanks to Lisa Widerburg, Flickr, and Creative Commons for the photo, "The shadow of my heart."