Connecting with Mary Oliver's "Last Night The Rain Spoke To Me"
by Monica Johnson · February 13, 2015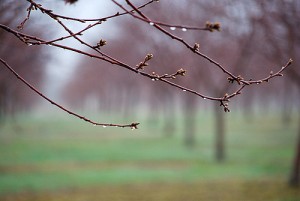 January is the mark of a new year, the month of resolutions, new beginnings, potential, and possibility. As we slide into February, I'd like to take a moment and reflect upon the fleeting first 31 days of 2015.
Here in Atlanta, gray, gloomy skies and a fairly constant, cold rain characterized January. These overcast, winter days have the potential of lowering the spirits and clouding the possibilities promised by the start of the New Year. These are the kinds of days that take the zing out of resolutions and dampen the drive to change.
Falling in with the gloom and using the weather as an excuse to curl up under a blanket (rather than go out for that jog—resolution number one averted), I unearthed the Vol. 5, No. 2 issue of Five Points.
Instead of finding an accessory to my laziness, much to my surprise, what I found was promise, potential, and motivation. While cursing the dreariness out my window, I was reminded in Mary Oliver's, "Last Night The Rain Spoke To Me" of the life that rain brings and how a winter of cold drizzles holds the promise of spring blooms. I began to feel that instead of dampening potential, rain could feed possibility. I now saw the drops from the sky as life giving, rather than energy sapping. I dug myself out from under the blanket, stood up, and stretched. I suppose now is as good a time as any to take that jog, to stick to my resolution to change, and embrace the potential of the New Year.
So even though, now that we've left January behind, we are not forced to forgo the possibilities that the New Year marks. The rain does not have to dampen our spirits; the gloom does not have to overshadow our potential. After all, January may be over but the New Year has really just begun . . . .
Last Night the Rain Spoke To Me
By Mary Oliver
Last night
the rain
spoke to me
slowly, saying,
what joy
to come falling
out of the brisk cloud,
to be happy again
in a new way
on the earth!
That's what it said
as it dropped,
smelling of iron,
and vanished
like a dream of the ocean
into the branches
and the grass below.
Then it was over.
The sky cleared.
I was standing
under a tree.
The tree was a tree
with happy leaves,
and I was myself,
and there were stars in the sky
that were also themselves
at the moment,
at which moment
my right hand
was holding my left hand
which was holding the tree
which was filled with stars
and the soft rain—
imagine! imagine!
the wild and wondrous journeys
still to be ours.
Mary Oliver's most recent book of poetry is Blue Horses.
---
Special thanks to Creative Commons, Flickr, and James Jordan for the beautiful photo, "Ready to blossom."