Down Memory Lane: Larry Levis's ELEGY
by Andrea Rogers · January 30, 2015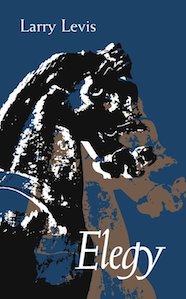 By the time I read Larry Levis's Elegy in 2004, I had already been writing poetry for a decade. Despite this fact, I had never considered myself to be a poet, and probably with good reason. To tell the truth, I'm not certain that I had even begun to ascertain a clear sense of poetry's power until I read this book. It was this book, which paired a gift for imagery and allusion with that unmistakable voice, that sense of clarity, directness, and precision I quickly came to know as pure Levis, that made me realize the difference between what I was writing and the kind of poetry I wanted to write: the kind of poetry that draws both the eye and the spirit.
Reading Elegy did more than make me want to be a real poet; it also broadened my knowledge base in other areas, including history, philosophy, and, of course, poetry. In this and other collections, Levis clearly gestures toward the work of his predecessors, consistently alluding to poets like Rilke, Stevens, and Frost. Like Frost's, Levis's poems are complex and multilayered, and often interweave natural imagery throughout narratives about the distant and not-so-distant past (a technique reminiscent of Frost's "Directive," which was written late in his life). As Elegy unfolds, Levis uses this technique to describe and contextualize his own personal history, including a youth which, like Frost's, was spent immersed in nature on a rural farm. Both poets eventually fled from this rural life, and Levis describes his subsequent experiences in the '60s, which include dropping acid and witnessing his friends being drafted for Vietnam.
Vietnam is not the only war Levis is concerned with here: the collection itself is heavily steeped in images of war. Whether discussing Vietnam, the Civil War, or the World Wars, Levis finds correlations between violent war imagery and the natural world. For example, in the poem "In 1967," he places the events surrounding Vietnam within the context of nature. The "[m]otionless leaves," "cedar waxwings," "Johnson grass," and "Thompson Seedless" grapes become a backdrop for the casualties of Vietnam, "…a generation that would not stop falling, a generation / Of leaves sticking to body bags." This imagery is reminiscent of both Frost's "Nothing Gold Can Stay" and John McCrae's "In Flanders Field." Further, in "Shiloh," Levis likens the corpse of a Civil War soldier to an angel caught up in the limbs of a tree, his arms frozen in an outstretched position. This image not only incorporates the soldier into the natural world, but also clearly signals Levis's attitudes regarding the failure of the Angel figure in poetry, an idea explored extensively by Rilke in the Duino Elegies. In the end, the dead soldier's still-living counterparts are likened to the poet himself, "just boys / Fading back into the woods and ravines again."
The idea of "fading" or disappearing is explored repeatedly throughout the collection, and later, Levis incorporates images of civilians affected by World War II, a group which has been all but forgotten by history. In "Anastasia and Sandman," the speaker illustrates the ways that academia and poets have failed to recognize these and many other horrific historical truths. At one point, the speaker focuses on a single Polish man who has lost his farm and horse and is now being forced to work in a factory. The man realizes that "'That horse I had, / He was more real than any angel, / The housefly, when I had a house, was real too.'" As a result, the realm of the natural becomes at once more real and, paradoxically, more elusive than the fantastic or ephemeral. This imagery also appears to be a sort of carryover from Frost, who felt that labor, which is embodied in the image of the horse, was the only true way to achieve ecstasy and union with the earth. More importantly, Levis's choice of imagery calls attention to marginalized groups and the ways in which they have been classically represented in poetry. In the process, he humanizes those who, at the hands of their oppressors, lost the very thing that made them human – their dignity.
Elegy, then, is shaped around the notion of things that disappear, things that vanish. Things that are or become translucent take center stage: angels, flies' wings, starving human bodies and horses, all become thin as air. The starvation of the image, the body, and, finally, the spirit, underscores the sense of disconnect experienced by the reader who has been alienated from history, and thus from the truth. The fact that these translucent images occur repeatedly is powerfully significant. As Levis's prior instructor and friend Philip Levine points out in the foreword, this repetition is indicative of Levis's attempt to unify a variety of complex ideas in a coherent manner: "Larry was not cannibalizing certain passages from some poems in order to heighten and enlarge other more ambitious poems, but … in fact he was using these motifs or 'riffs' to unify the collection he had in mind." Creating a sense of unity through recurrent imagery is not a new concept, but the description of these recurrences as "riffs" was the beginning of a revelation for me. This caused me to approach Elegy as if the poems were part of a symphony – movements separated by pitch, by tone, but always, in the end, unified through theme and repetition.
While much of Levis's oeuvre is equally transportive, Elegy still stands out to me as his best work. Perhaps this is because we tend to view posthumous publications in a different light, or perhaps it is because I feel a sense of romantic nostalgia for the book. Regardless of the reason, the pull and the mystery are still there for me. Every time I return to Elegy, I feel as if I am becoming one with both the poet and the poems, and, like the speaker of "In 1967," I can feel "[t]he bird's flight in my body…the wing ache, / Lifting heaven, locating itself somewhere just above my slumped / Shoulders, & part of me taking wing."